How To Reschedule Flight? – A Detailed Guide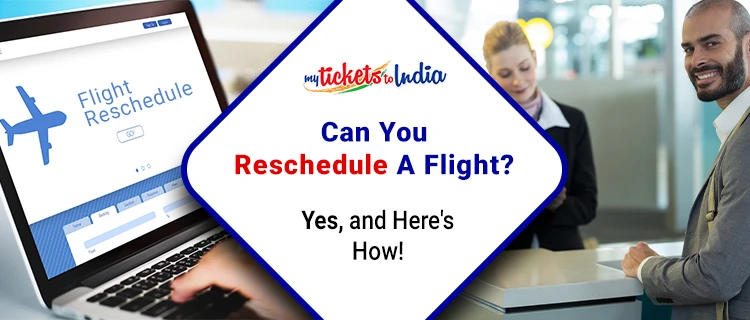 Last Updated on Sep 25th, 2023 by Renu Dahiya, Leave a Comment
Travel plans can be unpredictable. Life throws curveballs, and sometimes, you need to change your flight itinerary. Whether it's due to an unexpected event, a scheduling conflict, or a change in your plans, knowing how to reschedule flight can be a valuable skill for any traveler. In this comprehensive guide, we'll walk you through the entire process of rescheduling your flight, explore the various ways to do it, and help you understand the associated charges.
Can You Reschedule A Flight?
Yes, you can reschedule or cancel a flight. However, you may need to pay a change or cancellation fee depending on the airline you booked with and the fare class of your ticket.
Flights can sometimes be canceled or rescheduled, and it's not always in your control. Airlines may need to make these changes for various reasons, like: bad weather conditions, security concerns, missing crew members, technical issues, etc. Plus, travelers may also want to reschedule their flights because their plans suddenly change. Every airline has its own rules and conditions for flight rescheduling. It's crucial for travelers to understand these rules before they decide to change their flight.
How To Reschedule Flight? – Steps To Consider
Step 1: Head to the official airline website or your booking platform.
Step 2: Sign in with your credentials.
Step 3: Click on "My Account" and select your booked flight.
Step 4: Look for the "Request Reschedule" option. Airlines usually allow you to change your whole ticket or specific parts. Choose accordingly.
Step 5: Modify your flight details as needed and then submit your request.
Step 6: Keep an eye out for the confirmation notification. Once you receive it, your rescheduling is complete.
Note – Please note that while these steps provide a general overview, specifics may vary between airlines and booking platforms.
Ways To Reschedule Your Flight
Using Your PNR Number
To reschedule your flight, provide your PNR number and other required details on the airline or booking website. After entering these details, you'll be directed to a page where you can make changes to your flight.
Via The Airline's Official Website
Visit the official website of the airline you booked your flight with.
Log in to your account.
Look for the flight rescheduling option.
Enter your preferences and details.
Submit your request and wait for confirmation.
Or, you can directly reach out to the airline's customer care. Find the customer support number on their official websites.
Through The Booking Website
Go to the booking or third-party website where you made your reservation.
Sign in to your account.
Find the 'My Account' or similar section.
Locate the option to reschedule your flight.
Input your preferences and details.
Submit your request for rescheduling.
Or, directly contact the booking agent you've booked your flight with & inform them about your requirements.
Visiting The Airport
If you prefer face-to-face communication, visit the airline's ticket counter or customer service desk at the airport.
Key Factors To Consider For Flight Rescheduling
It's important to be aware of certain terms and conditions before proceeding to avoid last-minute complications:
Rescheduling Fees: Some airlines may charge a fee for rescheduling your flight. However, if the airline cancels the flight or you're changing the departure time, there's typically no extra cost.
Date Changes: If you want to adjust your departure or arrival date, there may be additional charges imposed by the airline.
Destination Changes: Rescheduling can also involve changing your destination. Check with the airline for any associated fees.
Upgrades: Occasionally, airlines offer upgrades or better seating options when you reschedule. Be sure to review their terms and conditions before making changes.
Availability: When altering your flight date, your preferred date may not be available. In such cases, it might be better to cancel your ticket and rebook flight.
Ticket Type: The type of ticket you've purchased (e.g., non-refundable, flexible) can impact your ability to reschedule without incurring hefty fees.
Note – The terms and conditions mentioned here aren't the same for all airlines and can change. It is recommended to review the specific terms and conditions of the airline you're using before making any modifications to your flight plans.
Understanding Airline Policies
Alaska Airlines Reschedule Flight Fee
Alaska Airlines has joined the ranks of airlines that have done away with their change and cancellation fees, and this applies to both regular and first-class fares. However, there are still some charges for same-day changes. For standard and first-class flights, there's a $25-$50 fee for same-day confirmed changes. Good news for MileagePlan MVP Gold or 75K members – they can make same-day changes for free.
Please note that Saver fares cannot be modified. For tickets bought on or after July 19, 2023: When you cancel Saver fares at least 14 days before the first flight, you can receive a credit for 50% of the ticket value.
American Airlines Reschedule Flight Fee
For tickets issued on or after November 19, 2020, American Airlines permanently eliminated these fees for international flights originating from North and South America to Asia, Australia, Europe, New Zealand, South America, and the United Kingdom.
Please note that Basic Economy fares purchased on or after April 1, 2021, cannot be refunded or changed. While fare differences may apply, if your new booking costs less, you'll receive a travel credit for a future trip.
If you need to make same-day flight changes, it's available on select flights for a $75 fee. For same-day flight changes between New York (JFK) and London (LHR), there's a $150 fee. However, customers can stand by for a same-day flight on flights within the U.S., to Puerto Rico, and the U.S. Virgin Islands for no additional charge.
Delta Reschedule Flight Fee
Delta Air Lines has permanently eliminated many of its change and cancellation fees for tickets within the U.S., Puerto Rico, and the U.S. Virgin Islands, as well as for all international travel originating from North America, including SkyTeam and codeshare flights. However, basic economy fares are not included in this new policy and cannot be changed or canceled. But, they may be canceled for a partial eCredit.
If you have a ticket that can't be refunded, you can switch your flight, but you'll need to pay a change fee. The fee can be anywhere from $0 to $400, depending on your travel route plus the price difference. Same-day flight confirmed changes incur a $75 fee. Delta Gold, Platinum, and Diamond Medallion members are exempt from all same-day change fees.
Southwest Reschedule Flight Fee
Even before the pandemic, Southwest Airlines stood out as the only domestic airline that didn't charge any change or cancellation fees. If you need to change your Southwest Airlines ticket, you only pay the difference in fare. If you cancel your flight, you'll receive a travel credit, usually valid for one year from your booking date.
For same-day flight changes, it depends on the type of ticket you bought – With a Wanna Get Away ticket, you'll need to upgrade to the full Anytime fare to make same-day changes. But, if you're a Southwest A-Lister, you're in luck – you can make same-day changes for free.
United Airlines Reschedule Flight Fee
For Economy, Economy Plus, First, Business, and Premium Plus tickets within the U.S. (including Puerto Rico and the U.S. Virgin Islands), as well as flights from the U.S. to Mexico and the Caribbean, United Airlines has permanently removed change and cancellation fees. However, if you have a basic economy fare, changing your flight isn't allowed. For other international flights, there won't be any change or cancellation fees as long as your ticket is issued by January 31, 2022.
Hawaiian Airlines Change Flight Fee
Hawaiian Airlines is joining other airlines in waving goodbye to many changes and cancellation fees. If you have a main cabin, extra comfort, or first, or premium tickets, you won't be charged any change fees. But, if you hold a main cabin basic ticket, you generally can't make changes or cancel it. Pualani Platinum and Gold members and corporate customers can make same-day standby changes for neighbor flights at no extra cost. For everyone else, unfortunately, waiting for standby isn't an option.
Volaris Change Flight Fee
There isn't a fixed charge for flight changes. The fees vary based on the fare category's policies. If you change or cancel your flight within 24 hours of the original ticket purchase, there won't be any charges.
For national routes: If you make changes more than 24 hours before your flight's scheduled departure, it's around $40 USD
If you make changes between 24 and 4 hours before the scheduled departure, it's about $53 USD.
For international routes: Changes made more than 24 hours before the flight cost $75 USD. Changes made between 24 and 4 hours before the flight cost $100 USD.
Frequently Asked Questions
Q: Can you reschedule a flight?
A: Yes, you can reschedule or cancel a flight, but there's usually a fee. The amount depends on the airline you chose and the type of ticket you bought. The good news is that during the coronavirus pandemic, many airlines have been kinder about changing fees. Some have even removed them completely.
Q: What can I do if the airline reschedules my flight?
A: Airlines sometimes have to reschedule flights for various reasons like bad weather or mechanical problems. You can choose to cancel your ticket and book a different flight if the new schedule isn't convenient for you. In these situations, airlines typically won't charge you any cancellation fees.
Q: How to change flight date for free?
A: Many airlines allow you to make changes or cancel your ticket without any fees if you do it within this 24-hour window.
By understanding the process, knowing your airline's policies, and following best practices, you can efficiently adjust your travel plans when needed. Whether it's due to personal reasons, scheduling conflicts, or unexpected events, this guide equips you with the knowledge to navigate flight rescheduling with confidence.
Still have any further questions? We're here to help! Just drop your queries in the comments section below, and our dedicated team at MyTicketsToIndia will resolve all your queries at the earliest possible.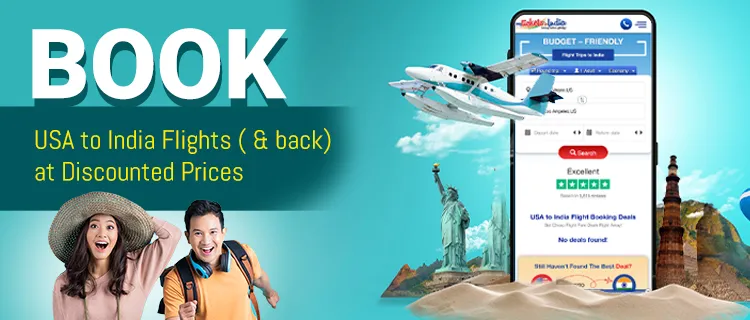 As one of the leading travel agencies in the industry, we specialize in providing fantastic deals on flights from USA to India (and back) at the most competitive prices. If you're planning to book USA-India air tickets, get in touch with our experienced travel experts today. We're absolutely thrilled to help you save BIG on your travel plans. Yay! 😊
Renu Dahiya is a passionate writer who worships her profession. Her love for writing has encouraged her to pursue her career as a writer. Her friends call her a "travel worm" and always come to her to know some interesting traveling tips and destinations. Renu is a repository of knowledge about traveling who knows which place should be visited in which season. Oh yes, she is insanely in love with dancing too. Writer, traveler and dancer, a perfect combination! Without a doubt, she is a complete package.