What Is Jet Lag? Here's How To Recover From Jet Lag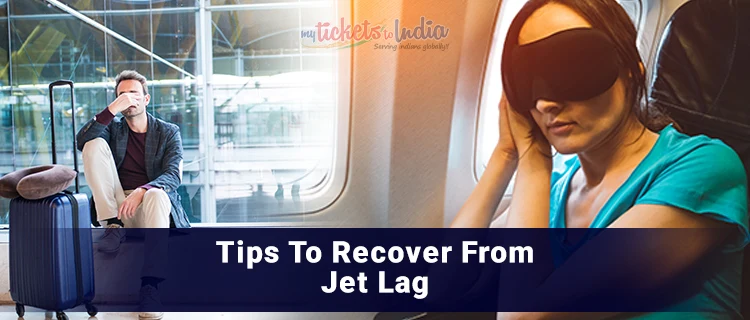 Last Updated on Aug 8th, 2022 by Renu Dahiya, Leave a Comment
Are you wondering how to recover from jet lag after coming home from a really long flight? We can help. We understand traveling on long-haul flights can make anyone tired, though it affects some people more than others. This is what we call jet lag and this issue is real. It is a temporary disorder rather than just a traveler's myth. This time zone-hopping phenomenon can throw a wrench in your sleeping schedule, making it difficult to fall asleep or stay alert during the daytime. But, there's no need to worry, jet lag is normal and you will recover from it within 1 or 2 days.
We're here to walk you through an easy-to-follow guide for you that answers all the questions like – what is jet lag, what are the jet lag symptoms, how long does jet lag last, and what are the best ways to overcome jet lag.
What Is Jet Lag?
Jet lag is a common but temporary sleep problem that can affect any person or traveler who quickly travels across multiple time zones without taking proper rest and precautions. In medical terms, this issue is known as Desynchronosis.
It means that the circadian rhythm or internal clock of the body is out of sync. Your body thinks it is still in one time zone, but physically it is somewhere else. It takes time to keep up with the new environment and time zone. That's why it gets confused and tired.
Jet Lag Symptoms
Some common jet lag symptoms are as follows –
Headaches
Difficulty falling asleep
Extreme tiredness
Mood changes
Lack of concentration
Stomach upset
Nausea and vomiting
Dehydration, etc.
What Causes Jet Lag?
There are several reasons why jet lag occurs, and it really has to do with your physiology, how your body reacts to the circumstances and what happens to your body while in flight. Traveling via plane makes jet lag worse because your body actually moves much faster than your mind and circadian rhythms can process the time change. Let's take a look at the points that cause jet lag –
Sitting on a plane continuously for long periods.
Plane's elevation and pressure.
Dehydration because of warm cabin temperatures and low humidity.
You're stressed out.
How Long Does Jet Lag Last?
If you are flying domestically such as from Chicago to Boston, you may not experience as much jet lag unless you have some medical issues or you're particularly sensitive. But, if you take Chicago to India flights and vice versa, it will surely cause jet lag. And, how long jet lag lasts depends on several factors such as how far you travel, your body's unique movement, and your overall health. Most people who experience jet lag start feeling better within 1 to 2 days after arriving at their destination. But, in some cases, it can take around one week to feel better like before.
Easy Ways & Tips To Cure Jet Lag
Jet lag is a serious modern problem that can affect your body and your daily routine. So, it might be worth learning how to tackle it, without relying on sleeping pills. Some easy tips and tricks to recover from jet lag as early as possible are –
Get Sunlight In The Daytime
Getting sunlight in the afternoon is one of the easiest and most effective tips that will help reset your circadian rhythm. That's because our body or our internal clock is influenced by the quantities and timings of daylight. Head outside and soak yourself in natural light. You'll 100% feel better.
Change Your Sleeping & Eating Habits As Per New Time Zone
Adjust your sleeping and eating habits according to the new time zone. Try not to sleep as soon as you start feeling tired. Change your bed timings that suit your current time zone, not where you were staying before. Similarly, change the timings of breakfast, lunch, dinner, and snacks and make a new schedule for your diet as per the changed time zone. For example – If you travel from Austin to India, force yourself to stay up a little later before heading to bed.
Melatonin Is Legit – Take It 2 Hours Before Bed
Melatonin is actually a hormone that indicates your brain when it's time to wind down and go to sleep. Taking a Melatonin drug in a small amount like 5 to 10 mg 1 to 2 hours before bed can really help you to catch some quick sleep. It also helps your body clock. You can take it in several different forms like gummies, capsules, tablets, liquids, powders, and sprays. Note: It is advisable to consult your doctor to know if this supplement is right for you.
Exercise Outdoors
Exercising is one of the most effective ways to soak in plenty of morning or evening light. This will definitely help to adjust your body and sleep according to the new time zone. Also, consider working out in the later morning or afternoon to help reset your internal clock. These adjustments in your routines or schedule will help you to adapt to time zone gaps.
Drink Caffeine After Your Flight
If you are feeling sluggish, then consuming a caffeinated drink in the morning will give you a much-needed boost against daytime tiredness. It is very tough to adjust yourself on the first day in a new time zone, especially when your sleeping schedule is totally out of whack. That's why drinking caffeine in the morning for a couple of days can save you from not nodding off in the middle of the day. Please make sure you are not having caffeine close to your bedtime. Also, don't consume caffeine during your flight journey, else your jet lag will worsen.
Stay Hydrated – Drink Plenty Of Water
Dehydration can make your jet lag even worse. The atmosphere in the cabin of the airplane is extremely dry. It is mostly because of the high altitude and low humidity. The plane air filtration systems often don't allow for as much humidity as our body is used to on the ground. This dehydration can cause dry skin and eyes, fatigue, severe headaches, and dizziness. So, save yourself from these problems by picking up a water bottle at the airport, or asking a flight attendant to bring one while you're up in the air. Also, drink lots of water even after getting home.
Avoid Alcohol During The Trip & Before Bed
Just remember that drinking alcohol during your flight and after reaching the destination will only add to your sleeping issues, not improve them. We understand that you really want to enjoy that special glass of wine on your flight, but this may disturb your sleep. It interferes with your body's normal sleep cycles, which further prevents you from getting a good and comfortable night's rest. So, if you don't want to deal with major issues, don't drink alcohol on the flight and when you get home.
Try To Shift Your Bedtime A Few Days Before The Flight
To avoid severe restlessness at your destination because of changing time zones, try to shift your bedtime in around 30 to 45 minutes increments each night. If you are taking a trip east (let's say Houston to India flights), try to sleep 1 or 1.5 hours before you usually would. And, if you are planning to fly west such as from India to Houston, push your sleep time back by 1 or 1.5 hours. These little changes can help you to adjust to a big time zone difference. So, to avoid or recover from jet lag, start taking precautions before your flight takes off, by setting your watch to your destination time zone as you settle in for the journey.
Frequently Asked Questions
Q: How does jet lag feel?
A: In jet lag, one feels drowsy, irritated, and tired.
Q: How many days does it take to recover from jet lag?
A: Many people start feeling better within 1-2 days after arriving at their destination. But some may take longer i.e. around one week to get back to normal.
Q: What foods or snacks help with jet lag?
A: Eating cherries, avocados, or watermelon can actually help you with jet lag.
Q: Does jet lag get worse with age?
A: Generally, there are two major factors that influence our body's clock – food intake and sunlight. But, according to some sources, jet lag appears to get worse with age. A person's circadian rhythm loses its vigor with every passing birthday.
So there you go, travelers, hopefully, this blog helps you to get over jet lag.
If you want to ask something, do let us know in the comment section below. Our team, at MyTicketsToIndia, will answer all your queries.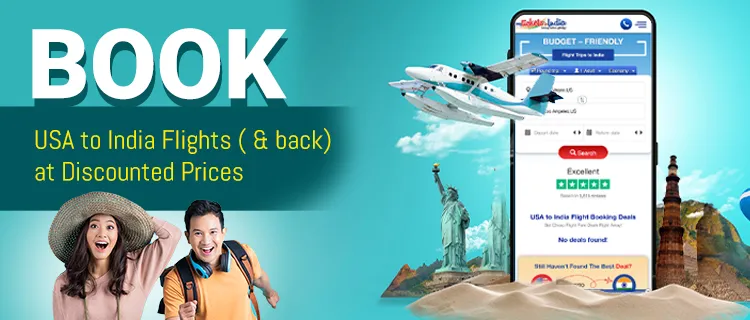 Speaking of MyTicketsToIndia, we are a leading travel company in the US that offers incredible deals on the USA to India flights and back with heavy discounts of up to 40%. We have a team of experienced travel experts that know all the hacks to help our customers snag the cheapest flight. So, what are you waiting for? Pick up your phone now and give us a call to SAVE BIG! You can also join our 24/7 live chat.
Renu Dahiya is a passionate writer who worships her profession. Her love for writing has encouraged her to pursue her career as a writer. Her friends call her a "travel worm" and always come to her to know some interesting traveling tips and destinations. Renu is a repository of knowledge about traveling who knows which place should be visited in which season. Oh yes, she is insanely in love with dancing too. Writer, traveler and dancer, a perfect combination! Without a doubt, she is a complete package.