Air India To Unveil Premium Economy Class On India-US Flights From May 15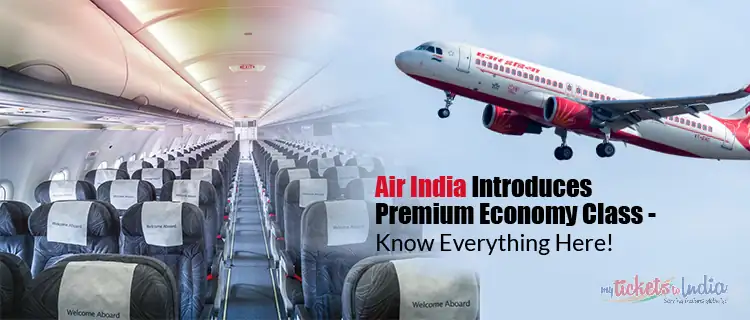 Last Updated on Jun 1st, 2023 by Renu Dahiya, Leave a Comment
Air India is breaking new ground in the aviation industry by placing massive orders for planes but now prioritizing passengers' comfort. That's why, Tata-owned Air India is introducing premium economy seating to passengers on India-US flights from May 15. This is particularly beneficial for economy passengers, who are often unhappy with the limited legroom that can contribute to fatigue on long-haul flights. Skim through the piece to know more details about this latest news shared by Air India.
Air India Launches Premium Economy Class
Air India, the flag carrier of India, has announced the introduction of Premium Economy Class on selected long-haul flights operated by the 777-200LR on the India-US route from May 15, 2023. Reservations for the same are open now. Initially, these flights will be available from Bangalore and Mumbai to San Francisco and Mumbai to New York, making Air India the first airline in India to offer four cabin classes – first, business, premium economy, and economy classes. All these flights will come with a fast-track airport experience, new Tumi kits, and an improved food menu.
Official Statement By CEO & MD of Air India, Campbell Wilson
"The popularity of Premium Economy Class has grown among travelers around the world, as people are increasingly opting for upgraded, yet affordable flying experiences. We are delighted to introduce a distinctive Premium Economy experience for our customers on select flights for now, with a plan to extend it to many more routes soon, as we rapidly expand and modernize our fleet. This is another step forward in our sincere, ongoing effort to transform Air India into a modern, global carrier of world-class products and service standards."
Air India Premium Economy Class Routes
The facility will be initially available on following famous India to USA flights, which will soon be extended to many more routes.
Bengaluru-San Francisco
Mumbai-San Francisco
Passengers traveling on USA to India flights will also soon be able to reap the benefits of Premium Economic Class. The airline has the plan to extend this to umpteen international routes soon as the AI team is working passionately on expanding and modernizing its fleet.
Air India Premium Economy Class Features
Air India's Premium Economy class guarantees a wide range of comforts for passengers, including –
World-class inflight services and added convenience on the ground
A fast-tracked airport experience
Dedicated check-in counters
Leather upholstered and memory foam seats
Winged headrests
Adjustable leg & footrests for extra legroom.
Upon boarding, passengers will be greeted with a drink served on an elegant silver tray and a menu card that provides a glimpse of the culinary delights they can expect during the flight. There will be an appetizer, three main course options, and dessert, along with a fine selection of non-alcoholic and alcoholic beverages. Air India has modified its food menu for international flights and added several new options.
Air India Introduces New TUMI Amenity Kits
Air India has also introduced new amenity kits from Tumi for First, Business, and Premium Economy class passengers. Passengers traveling in First and Business class will be provided with Tumi sleepwear, and there are specific amenity kits for each class of travel and sleepwear included.
Speaking of Premium Economy passengers, they will receive several things in their complimentary TUMI amenity kit such as flight socks, a lip moisturizer, an eye mask, and carpet slippers. Passengers will also be provided with noise-canceling headphones to use during their journey, ensuring a peaceful and comfortable flight.
So, experience a new level of flying with Premium Economy, which promises more comfort, luxury, and everything in between. Tickets for these select routes are available for purchase now, with travel effective from May 15, 2023.
Air India's Transformation Progress So Far
In September 2022, Air India announced an extensive 5-year transformation roadmap called Vihaan.AI. With so much to do, the new team is taking it one step at a time, setting several goals for its journey ahead in what is expected to be an uphill task. Air India made a historic order for up to 500 jetliners, invested in several areas, started various US-India nonstop flights, upgraded food menus on international flights, introduced new TUMI amenity kits, launched a premium economy class on US flights, etc.
Make Your Bookings With MyTicketsToIndia
So, get ready to fly in style and comfort with Air India's new amenities and Premium Economy class. Book your tickets now for a hassle-free and luxurious travel experience. And, our travel experts at MyTicketsToIndia can help you reserve flights at the cheapest rates possible. Being a leading air ticketing portal in the USA with IATA accreditation and a strong presence in the travel industry, we are the perfect choice to book your international flights. Not just this, you will also get detailed information about your route along with all the latest news on our website.
All you need to do is give us a call or join our live chat to make your travel super easy and budget-friendly!
Renu Dahiya is a passionate writer who worships her profession. Her love for writing has encouraged her to pursue her career as a writer. Her friends call her a "travel worm" and always come to her to know some interesting traveling tips and destinations. Renu is a repository of knowledge about traveling who knows which place should be visited in which season. Oh yes, she is insanely in love with dancing too. Writer, traveler and dancer, a perfect combination! Without a doubt, she is a complete package.