Halloween Marks Maximum Hotel check-in in Autumn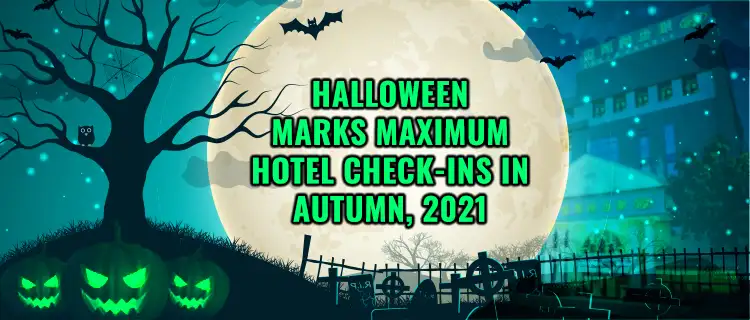 Last Updated on Aug 18th, 2022 by Ankita Awasthi, Leave a Comment
Traditionally, the month of October was barely a part of the holiday travel trends, but the trend is setting in new bars this year. According to Tripadvisor's latest travel survey and index data, Halloween: 31st October 2021 shall be the busiest and will have jam-packed check-in schedules for the hotel this autumn.
Going by the stats, this year's Halloween shall procure more than half of the American citizens traveling across for a break. The percentage of traveling has clearly risen over the years and is the highest this time. Factually quoting, a total of 63% of Americans shall be traveling around during this fall—the high times of autumn slips between September and November. Most of the trips this year are submitted to be the typical long weekend getaway kind. This getaway usually lasts for at least two days or five days at max.
Through the times of pandemic, the traveling crowd has mostly planned for a more remote or natural destination. However, the Halloween vibe has brought back urban staying and sighting to the top as the ten most popular Halloween sites survey have been clearly covered by the metropolises.
Although the weather shall be comparatively cool at that time of the year, still half of these hot spots are famously known for their sunbathing hives. According to a 2021 survey, the most famous fall destinations are Las Vegas, NYC, Orlando, Myrtle Beach, Ocean City, Honolulu, Nashville, Chicago, Miami Beach, and Virginia Beach, respectively.
80% of globetrotters are booking in the outskirts while others are even planning to explore foreign parts this time. The destinations across the Mexican borders are believed to be the most famous US traveling spot during this time of the year.
The US citizens are reported to be attaining a greater traveling expenditure average in comparison to the other country's tourists. In fact, the family hotels are the most demanded style of staying in, and hence, such hotels have been searched through and are completely booked in most parts of the hotspot destinations during Halloween.
A must-to-do: Celebrate Halloween in India this year!
When it comes to exploring, Americans are mostly inclined towards exploring new cultures or varied traditions of the festivals. India could be one such locale to explore. With the celebration of festivals like Valentine's day, Christmas eve, and New year, westernization is on a full spree in the country. Various metropolitan cities like Delhi, Bangalore, Mumbai, Pune, etc take the privilege to move a step further and commemorate this fancy occasion in the western tradition. Various family restaurants, Party clubs, Discs, nightclubs, and cafes curate their ambiance around the Halloween-centric theme. The party spots warmly welcome the festively dressed guests and keep fun games around them as a gesture to appreciate their efforts. The spooky theme and the whole setup are simply awe-inspiring and must be experienced at least once.
So, if the Indian Halloween is tingling upon your travel bones already! You are warmly welcome to book your international flights to India through our online travel agency. For any queries, feel free and reach out to our travel experts.
Ankita Awasthi has been a content writer for over half a decade now. She seeks to satiate her writing urge by charting creative blogs with up-to-the-minute information. In true wordsmith spirit, she believes that a creative head never sleeps! Her blogs constantly aspire to inspire readers to live their travel dream. Her writing genre covers Indian tourism destinations, offbeat locales and travel guides with focus on its rich art history, culture, heritage, nature trails and travelling attributes.