Flyer's Pet Dog Refused Entry On Air India Flight At Bengaluru Airport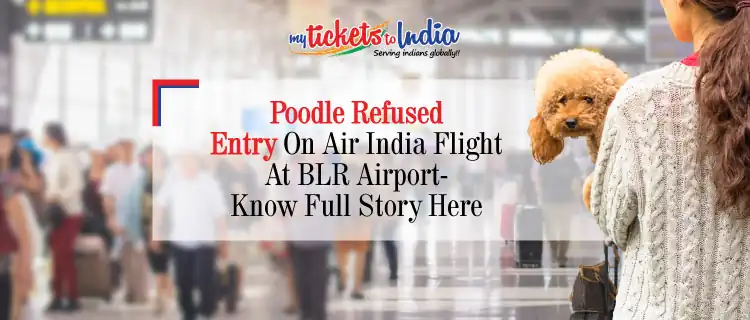 Last Updated on Jan 4th, 2023 by Renu Dahiya, Leave a Comment
A family with their pet dog at Bengaluru Airport was denied entry on an Air India flight despite the airline's pet policy. Due to this, the family had to cancel their trip, which frustrated them. Let's know the complete story behind this incident below –
Poodle Refused Entry On Air India Flight At BLR Airport
Sachin Shenoy alleges that despite meticulously following all the necessary guidelines and completing all of the required formalities, his 20-month-old toy poodle was still denied permission to board a flight from Bengaluru, ultimately forcing them to cancel the entire trip. This unfortunate incident has left them feeling frustrated and helpless.
When Sachin Shenoy, an HR consultant, and his family attempted to board an Air India flight from Bengaluru to Amritsar via Delhi on December 17, they faced a nightmare situation. Despite having all the necessary documents to travel with their pet dog, a 20-month-old toy poodle named Fluffy, they were denied entry on the flight. Unfortunately, Air India wouldn't let them board the flight, leaving Sachin and his family stranded at Kempegowda International Airport (BLR) in Bengaluru.
After months of careful research, the family found that Air India was the only Indian airline that allowed pets weighing up to 5 kg to board. With the assurance of Air India's pet policy, the family felt comfortable booking their tickets with them, knowing that their beloved pet would be able to accompany them on their journey.
Air India Pet Policy
Air India welcomes your furry friend aboard domestic flights, but there are some rules to follow. To ensure a safe and comfortable journey for your pet, please abide by the following guidelines:
Pets must be properly carried in soft, ventilated bags or kennels of the prescribed size (kennel size not to exceed 18″ x 18″ x 12″). 
The weight of the pet and its container should not exceed 5 kg for carriage in the cabin.
Pets must travel in the same cabin as their owner and are not allowed to travel in the cargo hold.
Tip – You can check about the top 5 pet-friendly airlines here. 
Statement Made By Sachin Shenoy
"We go Fluffy's medical and vaccination certificate and produced these documents at the airport. We also purchased a cage with the required dimensions. Fluffy played and cuddled with around 250 people at the airport and caused no nuisance at all."
Sachi also said that right from the start, Sachin had difficulty getting clear answers about the airline's pet policy from their customer service representatives. Each time he tried to get clarity, he was met with conflicting responses. On top of that, he was unsure of how to properly weigh his pet, Fluffy, upon arrival at the airport. This lack of clarity caused a lot of confusion and frustration for Sachin.
After allegedly being denied permission to board the flight, despite completing all the necessary formalities, Sachin's family had to cancel their entire trip due to the airline's unclear policy. He said –
"We canceled our entire trip because of the airline's hazy policy. This is a pathetic way to handle the boarding of pets. I wish the concept of pet tickets existed on Indian airlines.
Air India's Tweet In Response To This Controversy
In response to this incident, the airline tweeted – "The commander of the flight was not fully satisfied with the cage and muzzle of the pet which is why he could not allow it to be carried in the cabin. It's never our intention to cause any inconvenience to our passengers. Our laid-down policy for the carriage of pets on domestic flights clearly mentions that pet carriage is subject to the approval of the commander of the flight."
After facing a stressful ordeal, Sachin was relieved to find that the airline offered him revalidation of his tickets. However, worried about the safety of his pet Fluffy, Sachin chose to receive a refund instead. As he waits for his refund, Sachin has taken it one step further by starting a petition with the goal to bring about a change in the pet boarding guidelines of Indian airlines. His petition has garnered 500 signatures so far. "The airlines' compensation is not my priority. I hope the petition reaches more people and eventually gets noticed by the concerned authorities," Sachin said.
Also, the airline has yet to provide information on the refund of Rs 26,000 for excess baggage.
Here's everything we have to share with you regarding this incident of a family with a pet being denied entry on an Air India flight at Bengaluru Airport. We hope the pet policy of Indian Airlines will improve after this incident.
Have you liked the piece? Check out our website to read more latest travel news and informational blogs that will help you to plan your travel. If you have any queries related to travel, you can ask us in the comments below or contact our team at +1-585-948-0222 anytime. Our team will answer all your questions.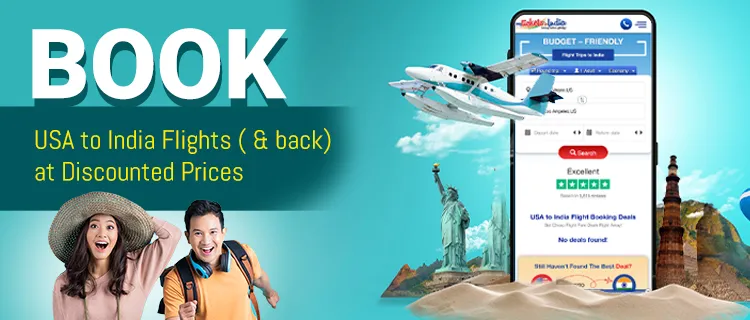 If you want to enjoy the most exclusive deals on flight tickets, MyTicketsToIndia is your one-stop online portal. The attractive discounts will make your trip easier to choose with us. Traveling on flights is now hassle-free and budget-friendly as our travel experts will guide you through booking your air tickets and offers incredible deals. So, feel free to contact our agents to book USA to India flights (and back), our customer support team is ready to provide all necessary information on booking air tickets, cancelations, and other queries. 
Renu Dahiya is a passionate writer who worships her profession. Her love for writing has encouraged her to pursue her career as a writer. Her friends call her a "travel worm" and always come to her to know some interesting traveling tips and destinations. Renu is a repository of knowledge about traveling who knows which place should be visited in which season. Oh yes, she is insanely in love with dancing too. Writer, traveler and dancer, a perfect combination! Without a doubt, she is a complete package.