Indulge in Air India's New US-India Flight Menus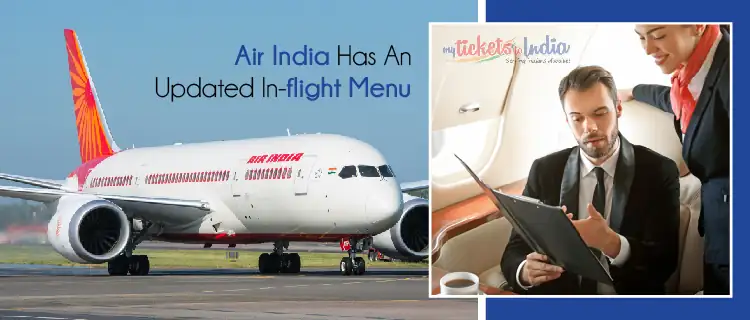 Last Updated on Jun 14th, 2023 by Renu Dahiya, Leave a Comment
The sound of flight attendants beginning the meal service can stir up hunger pangs in anyone. Today's flyers seek airlines that not only offer good value for their money but also enhance the overall experience. As a result, inflight dining has become increasingly important, with airlines winning over customers with the promise of a delicious, hot meal. 
Air India, India's national carrier, is currently undergoing a transformation, modernizing its fleet, expanding its network of destinations, and revamping its inflight dining experience for passengers. The airline has added various dishes and beverages to its menu on international flights that will definitely improve the flyer's experience. Know everything about Air India's upgraded new inflight menu here.
Air India Rolls Out New Menu For Int'l Flights
Air India has recently revamped its in-flight food and beverage menu for all international flights departing from India, as part of its commitment to continuously improve the flying experience for customers. The new menus, which have been curated by Air India's in-house experts, catering partners, and suppliers, feature a range of gourmet meals, trendy appetizers, and decadent desserts that showcase India's culinary heritage.
Official Statement By Air India's Head Of Inflight Services
"As part of our ongoing effort of transforming the Air India experience for guests, we have brought great thought and energy into our new menus. We want our guests to enjoy their food and beverage on board Air India flights much like they would at their favourite restaurants. Our underlying focus while designing the new menus has been on ensuring that they include nutritious options that are delicious, and on incorporating contemporary, sustainable practices."
-Sandeep Verma
Vegan Meals Are Now A Part Of Air India's Food Menu
The menu refresh has been influenced by guest feedback and incorporates contemporary and sustainable practices, ensuring that all dietary preferences are catered for, including a wide selection of vegan options such as Subz Seekh Kebab, Thai Red Curry with Tofu &Vegetables, Broccoli & Millet Steak, Lemon Sevaiyan Upma, Medu Wada, and Masala Uttapam. Air India has included these vegan dishes on its flights from India to USA, Canada, London, and other offshore destinations for the very first time.
Delicious Desert Options
The refreshed menus of Air India offer a variety of fusion dishes and classic Indian meals for breakfast, lunch, and dinner across all classes on almost all Air India flights from India to USA, Canada, and all other major countries. The dessert offerings include a range of indulgent options such as –
Mango Passionfruit Delight
Espresso Almond Crumble Mousse Cake
Quinoa Orange Kheer
Single Origin Chocolate Slice
Chum-Chum Sandwich with Blueberry Sauce
Khajur Tukda with Kesar Phirni
A seasonal fruit selection.
Refreshed Beverages Menu
Passengers can also indulge in sophistication with Air India's bar menu, which features a fine wine list, including Laurent-Perrier La Cuvée Brut champagne, wines from the renowned vineyards of Château de l'Hestrange, Les Oliviers, Chateau Milon, and the Piedmont region of Northern Italy.
Air India's newly revamped beverages menu offers an impressive selection of premium-brand whiskeys, gin, vodka, and beers. Guests can also enjoy a variety of mocktails, including Virgin Mary, California Orange, Apple Spritzer, and a range of juices to enhance the fine dining experience. For those who prefer hot beverages, Air India also offers freshly brewed coffee, including Classic Coffee Blend and Cappuccino, as well as tea options such as Assam, Green, Earl Grey, and Masala.
Air India's Transformation Efforts
Air India's revamped menu seems poised to position them as leaders in the aviation industry, but the airline official says that there are still some areas for improvement. During the golden age of travel, Air India was known as the "Maharaja" and their inflight meals were considered the epitome of fine dining. As history repeats itself, it appears that Air India is once again poised to become the undisputed king of the skies.
Over the past few months, the airline has meticulously crafted a roadmap to transform itself into a global powerhouse with an unyielding Indian spirit. Air India made a huge order for 500 jetliners, resumed various nonstop flights from USA to India, introduced Premium Economy Class on int'l flights, and more.
Reserve your flights with Air India to see what's cooking in the airline's new menu as the 'Maharaja' of the skies reinvents itself.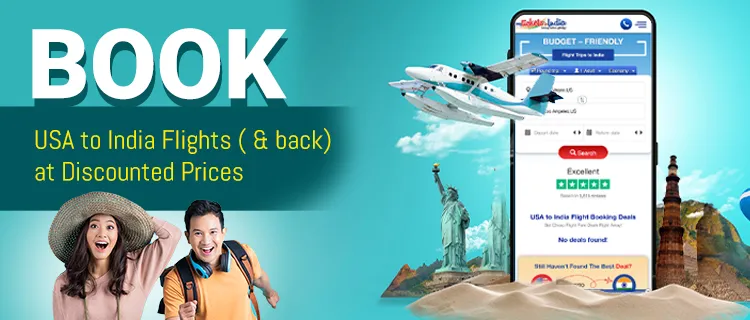 Book Your Air India Flights With MyTicketsToIndia
Tempted to book Air India flights for your next trip? MyTicketsToIndia can help! With an extensive range of options and exclusive discounts on US-India flights, we guarantee big savings. Give us a call or join the live chat for free quotes and bookings.
Renu Dahiya is a passionate writer who worships her profession. Her love for writing has encouraged her to pursue her career as a writer. Her friends call her a "travel worm" and always come to her to know some interesting traveling tips and destinations. Renu is a repository of knowledge about traveling who knows which place should be visited in which season. Oh yes, she is insanely in love with dancing too. Writer, traveler and dancer, a perfect combination! Without a doubt, she is a complete package.