Direct Non-Stop Bengaluru-San Francisco Air India Flights May Resume From June 10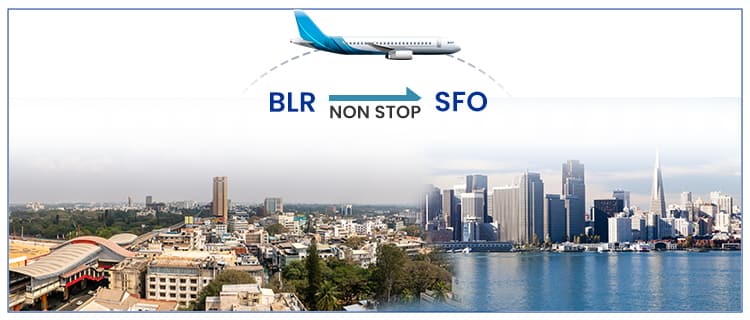 Last Updated on Nov 1st, 2021 by Heena Ganotra, 12 comments
As per TOI that quoted TNN as its aviation source, Air India is likely to resume its direct non-stop flights between Bengaluru and San Francisco from 10th June. We, at MyTicketsToIndia, deemed it fit to notify the same to our passengers so you can pin your hopes on the same. Hope sustains life, after all!
With this news that comes across like a wave of happiness, let's delve a little deeper to understand things better.
First Direct Non-Stop BLR-SFO Flight
The first Air India non-stop flight between Bengaluru and SFO was inaugurated on January 11. It was led by an all-women crew, including four pilots, that flew to Kempegowda International Airport. The return flight left for SFO the following day with 220 passengers.
Last Direct Non-Stop BLR-SFO Flight
The last flight to SFO that took off from Bangalore Airport was on May 10. The next flight that was scheduled on May 13, however, was grounded.
Note: The flight was grounded due to a lack of funds. This poor patronage can be directly linked to the lockdown in Karnataka owing to the second wave of coronavirus.
How Did BLR-SFO Non-Stop Flights Operate Before The COVID Scenario?
Before COVID-19, Air India operated two weekly non-stop flights to Kempegowda International Airport, departing on Saturday and Tuesday. The return flight from Bangalore to San Francisco arrived on Mondays and Thursdays.
They were operated via Air Bubbles between India and USA. Besides, this route was one of the newest to mark its entry into the list of non-stop flights between India and USA.
Not just this, the Bengaluru-San Francisco route has set two new records.
It is the longest route at 14,000+ km (8,698 miles).
It is the longest flight to and from India (over 16 hours).
How Can MyTicketsToIndia Help You In This?
As a flight-booking portal headquartered in the USA, we can offer our expertise in offering you cheaper flights. Besides flights from San Francisco to Bangalore and back, we cater to all the major destinations in India and USA. The only thing you need to do is connect with us and we'll share the best itinerary.
We have been working tirelessly during these demanding times so flights from India to USA can be booked seamlessly. We know both the apprehensions in the hearts of the passengers and the solutions to them. Just get in touch with us and we'll handle your queries regarding flights to India or back well.
About Heena Ganotra | View Posts
A writer by both passion and profession, Heena Ganotra is "half agony, half hope" but all heart. And oh, she has been a book lover from the start! Her love for books is what convinced her to make a career in the wonderful world of words. She loves what she does and is out-and-out a satisfied soul with a wish to spread happiness like herpes. Insight- Some say she is living the best life anyone could because she reads, writes, travels, and makes merry. They're right because what else does one really need! :)