Man Helped Elderly Couple From Rural India In Boarding Their First Flight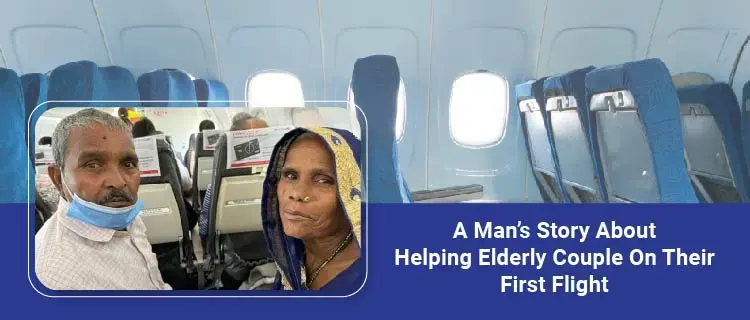 Last Updated on Nov 15th, 2023 by Renu Dahiya, Leave a Comment
The Internet is a repository of amazing stories, and recently a very sweet real story has popped up on the internet which depicts kindness and humanity. A man named Amitabh Shah, Chief Inspiration Officer who hails from Gujarat, posted a story on his Linkedin account about how he helped an elderly couple during the boarding process and bought them food on their first flight. Let's know more about the story below.
Story Of A Man Helping Couple On Their First Flight – A True Example Of Kindness
The man, Amitabh Shah, was at the Indira Gandhi International Airport, Delhi for his Delhi to Kanpur flight when he saw an elderly couple in the boarding area. He said that they look very tired, as they came to the airport from a village in Uttar Pradesh after an 8-hour-long bus ride.
Amitabh Shah could gauge that the couple was traveling via a flight for the first time and were having a hard time understanding the system.
Then, Amitabh chose the path of kindness and decided to help the clueless couple with boarding. He later found that they sat in the row right ahead of him.
The couple asked him to click a picture of them seated on the flight, which they wanted to send to their daughter to let her know that they are safe and successfully boarded the flight. Amitabh took the pic and sent it to their daughter on WhatsApp. Shah also shared a picture of the duo on LinkedIn while describing the story.
Amitabh Shah also shared that when the Airhostess came to serve food, the couple declined but they clearly seemed hungry and thirsty. Then, the man told the air hostess to give them 'Panner Sandwiches' and juices and to tell them it was all complimentary as the airline chose them as lucky customers to win a free meal. Amitabh paid for the food without their knowledge.
Amitabh mentioned in his post that the couple simply smiled at him when they landed and went their own ways.
See the LinkedIn post of Amitabh Shah here –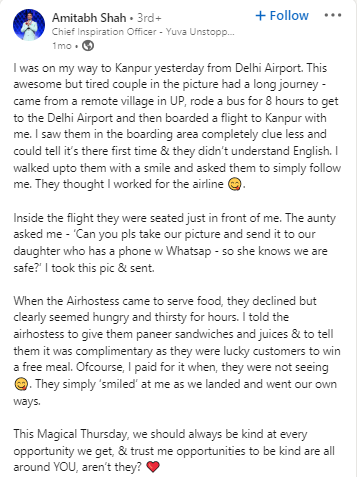 After posting this story on Linkedin, Amitabh received mixed reactions from the public. While some called it a publicity stunt, users also appreciated the man's efforts and offered praises to him.
See some of the reactions of the public below –
UDAN Scheme of Indian Government
With the help of the UDAN Scheme, the elderly couple was able to travel from Delhi to Kanpur via air. The Government of India initiated a UDAN scheme, a Regional Airport Development Program, and part of the Regional Connectivity Scheme, in 2017 which let lower middle-class people travel domestically by air. The tagline of this UDAN scheme is 'Ude Desh Ka Aam Nagrik' which means ''Let the common citizens of the country fly'.
India is the world's third-largest market in the Aviation sector. The main objective of the UDAN scheme is to connect small and medium cities with big cities through air service. Under the scheme, the airfare for a one-hour journey by a 'foxed wing aircraft' or half an hour's journey by a helicopter for about 500 km, has been fixed at Rs. 2,500/-.
Currently, traveling via taxi in the country costs an average of Rs. 10 per kilometer. But in the UDAN scheme, the fare for 500 km air travel has been fixed at Rs. 2,500 only. That is, about Rs. 5 per km, which is less than the taxi travel cost. It means, through this scheme, the Government of India helps common people to save their time and money.
Conclusion
This story warmed the cockles of the internet's heart. And, it has truly inspired us all and depicted a clear message that we should always be kind at every opportunity we get. With the same motive, we, at MyTicketsToIndia, have initiated IndianVibes, a platform curated for Indian Americans to keep them connected with their native land and its most recent updates and happenings.
In a world where you can be anything, be kind.
That's why when you find a senior citizen or a regional-speaking citizen being uncomfortable on a flight to India from USA, do accompany them and help them.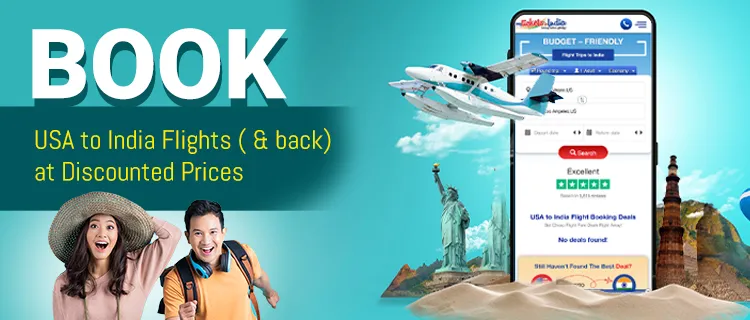 What are your thoughts on this story? Tell us in the comment section below. We'd love to hear from you.
IndianVibes is the sister portal of MyTicketsToIndia – a well-known flight booking platform. So, if you even plan to travel to India, you know whom to contact, right? We're available 24/7 to help you book your tickets at the cheapest rates.
Renu Dahiya is a passionate writer who worships her profession. Her love for writing has encouraged her to pursue her career as a writer. Her friends call her a "travel worm" and always come to her to know some interesting traveling tips and destinations. Renu is a repository of knowledge about traveling who knows which place should be visited in which season. Oh yes, she is insanely in love with dancing too. Writer, traveler and dancer, a perfect combination! Without a doubt, she is a complete package.