Best Flight Search Engines: Top 9 Flight Booking Websites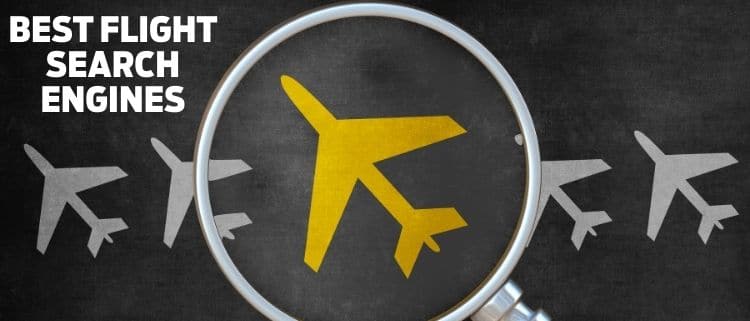 Last Updated on Nov 20th, 2023 by Heena Ganotra, 2 comments
Are you planning to take a trip overseas? You can either book your flight directly with the airlines or use the innumerable online travel agencies or international flight search engines available. The real question is whether the flight booking website chosen by you is the best place to buy airline tickets or not. The unfortunate truth is that no one website will give you bumper deals every single time due to multifarious reasons. It is also true that some airlines like Southwest do not allow flight booking websites to sell their plane tickets on their platform. Nonetheless, you are more likely to find cheap flight tickets on a third-party flight booking website than on the official website of the airlines.
Since one tends to get confused as to what the finest options available are, we have prepared a thoroughly researched list of the best flight search engines that are favored the most in the market. Let us look at some features that make them stand out and also discuss their merits and demerits so that you can make an informed decision regarding the best site for cheap flights.
Best Websites For Flight Bookings
1. Expedia
About – Expedia is an online travel agency that is considered one of the best websites to book international flights. It helps a customer to plan his or her trip including the plane tickets, accommodation, and ground transport at the best airfares possible.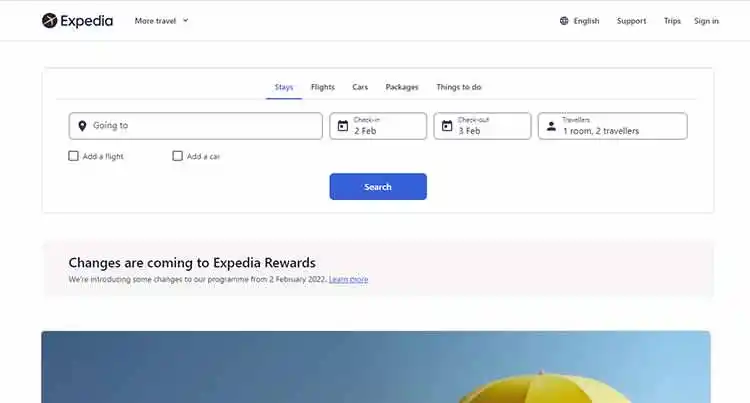 Features –
1. It uses real-time data to analyze and suggest alternative airports, times, or dates of travel to provide the cheapest possible deal to the customer.
2. It stores and organizes the customer search history so that it is easily retrievable, and the customer doesn't need to start from scratch every time he or she revisits or refreshes the website.
3. This flight search engine sends a customized notification, through emails, to each customer whenever there is a change in price so that there is transparency in the system and the customer gets the best deal.
4. If you wish to, you can share your itinerary with a loved one so that they get access to the same notifications as you regarding the travel time and delays.
Merits –
It is an easy-to-use website (in fact the best flight deals website) with no hidden charges, accurate information with respect to the airlines, and hotels; all the while offering some of the best airline prices.
Demerits –
The fact that it is the most efficient flight booking website does not always ensure that you will get the cheapest deal or that it is the best website for flights. Mostly the price reduction is offered in the form of an entire package which includes not only the flight tickets but also the hotel, car, and so on.
Verdict –
Do check it out but make sure you compare the prices with other cheap airline sites before making a decision.
2. Travelocity
About – Based in Dallas, Texas, Travelocity is owned by Expedia, Inc., and hence, it is a flight website that has similar features as Expedia. It is one of the world's most popular online travel companies which offers deals that range from tested and popular destinations to unexplored ones. It was one of the earliest travel search engines that were made available to the public. It is indeed one of the top-rated travel sites for flights.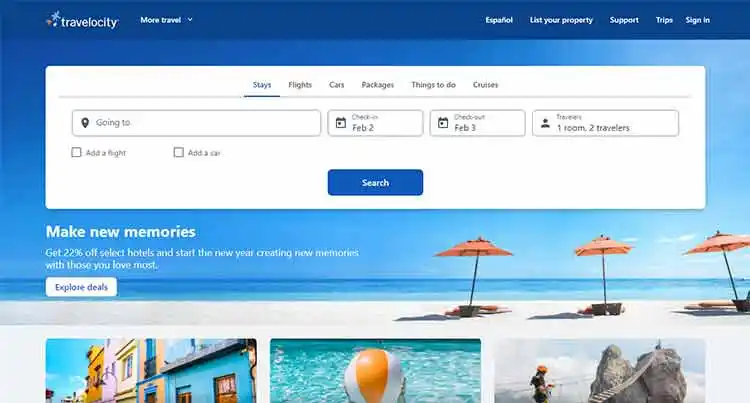 Features –
1. Real-time notifications and updates as to the availability of flights and hotels to potential customers.
2. Easy-to-use airline search engine for international flights with minimal data entry required from the customer's end
3. Offers a lot of lucrative sales that customers use to book cheap flight tickets.
4. Offers a varied number of packages in terms of options with respect to the airlines and hotels that one wishes to choose from.
5. Offers a fare watcher service that will notify the customer in case of a drop in airfares which they are interested in.
Merits –
There is a transparent system that grades each flight itinerary on a scale of ten based on factors such as the quality of the airline and the services it offers. Such reviews help a potential customer to make an informed decision while booking a flight online.
Demerits –
Travelocity doesn't permit refunds on cancellation. Being legally related entities, the airfare on Expedia and Travelocity is mostly similar. In fact, you are more likely to find expensive airfares on Travelocity.
Verdict –
While it is considered the best website for cheap flights by some, we'd recommend you visit the same but do not be completely dependent upon just one resource to get the best deal.

3. MyTicketsToIndia
About – Since 2013, MyTicketsToIndia has been serving a huge clientele across the US and India. It ranks amongst the top online travel agencies or flight booking websites of the world and is trusted by many as the best flight booking site. It has a team of experienced professionals who make the experience of booking cheap flight tickets pleasant for their customers.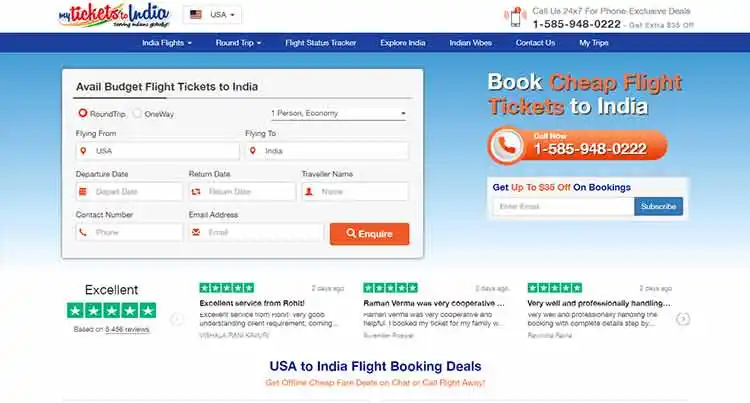 Features –
1. Service provided by this online flight booking website is tailor-made for each customer, keeping in mind his or her unique needs and requirements.
2. Although it is not a guarantee, you are most likely to find the cheapest flight deals on this website without worrying about hidden charges.
3. Unlike many others, the professional team of MyTicketsToIndia is genuinely available at all times. While that doesn't mean that all your demands would be fulfilled, it does, however, mean that every request shall receive an adequate response.
4. The travel agents use algorithms and other tools to compare the flight fares of different airlines to offer you the best airline prices.
5. A refund policy upon cancellation is available subject to certain conditions which makes the portal the best place to book flights.
Merits –
It is almost certain that you will be able to find cheap flight deals on this website and more often than not, it will be the cheapest deal available.
Demerits –
Although customers seem more than pleased with MyTicketsToIndia, there are some that believe that there are plenty of other flight booking websites that offer cheaper flight deals.
Verdict –
No website claims that they offer the cheapest flight tickets since this fact is subject to multiple conditions in the market. Hence, there is no demerit of this website per se which makes it one of the best places to find cheap flights online.
4. Skyscanner
About – The online platform is one of the world's largest search engines for cheap flights, hotels, and ground transportation. You will find innumerable options with respect to the above said on this platform. This makes Skyscanner stand out amongst the other online flight booking search engines.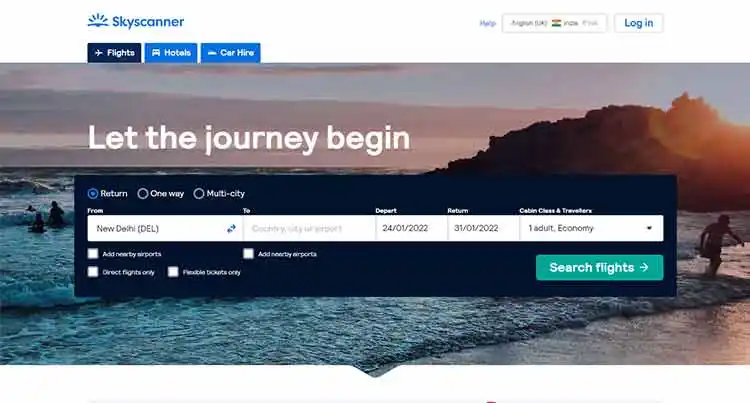 Features –
1. It uses a transparent and ethical manner to offer various holiday deals. There are no hidden charges or commissions on this website. It doesn't even use cookies to raise the price of the flight ticket every time the user refreshes the page or revisits it. So, there is no need of using the incognito mode to book flight tickets on this platform.
2. Skyscanner uses technology built by its own team of experts which keeps changing with the dynamic needs of the society.
3. Options like 'everywhere' search, 'multi-city' search, 'best time to book', price alerts, user-generated hotel reviews, and car filters according to the needs of the customer makes Skyscanner quite popular amongst travelers when they are trying to find the best airline prices online.
4. You will find that the price of the flight ticket is the same or lesser on Skyscanner than the one on the official website of the said flight. It makes its money through airlines, hotels, and cars that get listed upon the website and not from its customers in the form of hidden charges.
5. Skyscanner offers a wide variety of choices that can be availed of by customers of every age, gender, sexuality, and background as it is one of the best flight deals search engine.
6. For the ones who believe in sustainable development and also want to choose environmentally friendly options, Skyscanner has a "greener flights" filter which offers travel deals with a relatively lower carbon footprint making it one of the best websites for flights.
Merits –
The all-in-one application makes it easy for travelers to book not only flights but also hotels and car rentals with the click of a button!
Demerits –
Sometimes Skyscanner may direct a customer to book on a site that is unheard of by the customer. It makes the customer a bit uncomfortable. Although there is a rating of each of such websites based upon services like price accuracy, refund policy, customer service, and ease of booking, some customers feel like low-rated websites shouldn't be listed.
Verdict –
While comparing airfares on different platforms, it is advisable to check the flight fares on Skyscanner too as it is a good flight comparison website.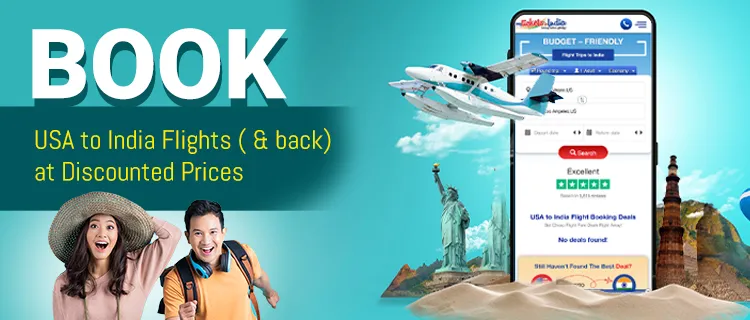 5. Superfares.com
About – Superfares is the best website for flights and offers big discounts on international flights. It is one of the most prominent online travel agencies which takes of the air ticketing needs of a huge clientele across USA who wish to travel domestically or internationally. It was founded in 2009 and hence has been offering brilliant travel deals to customers worldwide ever since.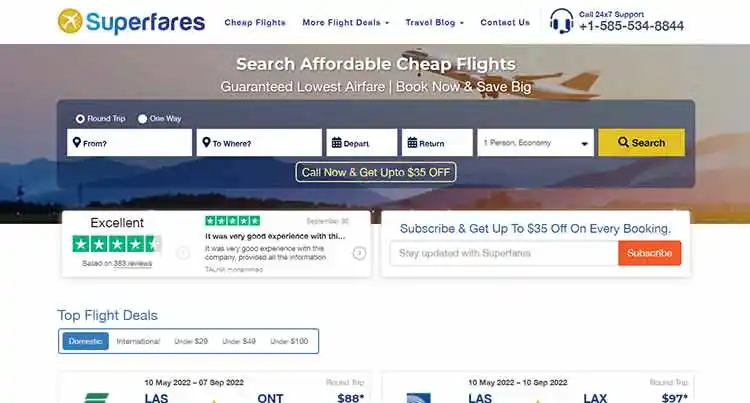 Features –
1. Superfares.com is one of the best international flight search sites that is built of highly trained professionals who respond to every little query of the customers 24/7.
2. The travel agents of this online platform are experienced enough to provide the best and the cheapest airfare deals to the customers after comparing them with others, making this flight search engine quite popular.
3. The website keeps incentivizing people to book flight tickets from their platform by offering great deals and discounts.
4. It is an IATA certified travel agency which means that it can be trusted by all. One doesn't need to be scared while using this platform to make payments as it offers secured payment options like the mobile wallet, net banking, debit and credit cards, and so on.
5. Years of experience in handling customers has made sure that the website keeps evolving with the current needs of potential customers.
Merits –
Needless to say, Superfares.com is entirely customer-centric. It is a transparent and easy-to-use website. No wonder, some travelers believe that it is the best place to find cheap flights.
Demerits –
There are certain customer grievances with respect to the refund policy of the flight tickets.
Verdict –
Do not stick to one online travel agency when you want the best option. Keep comparing them with others to find the best website.
6. Kayak
About – Kayak is a popular online search engine for travel deals. It gives the best and cheapest options for flights, hotels, and rental cars to travelers. It offers great personal and business trip packages which entice a lot of customers to buy travel deals from Kayak. In 2013, it was acquired by Booking Holidays which is a globally renowned leader in online travel. If you're looking for cheap flight websites, then you must search for flight fares on Kayak.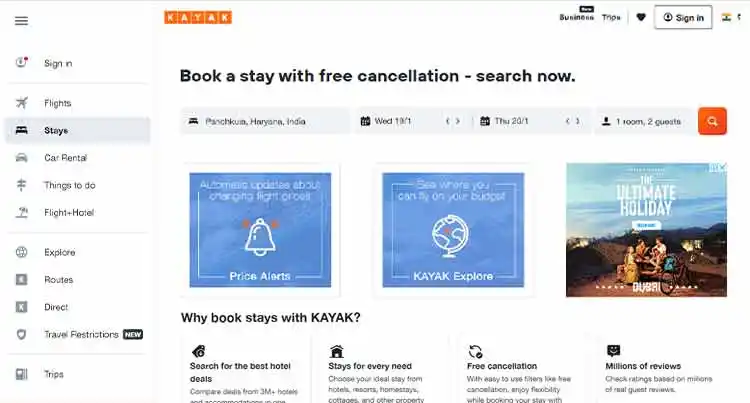 Features –
1. Features such as Price Alert allows a customer to track the prices of flights and hotels on their emails and/or phones so that it is impossible to miss out on a good deal. Features such as 'Price Forecast' can be used to know when to book or wait for a flight.
2. This search engine allows its customers to personalize the entire experience. Customers are able to add or delete things out of their itinerary to make their vacation more enjoyable and memorable.
3. For the customers who wish to travel on a budget but are unaware of the options available to them, Kayak's 'Explore' option shows multiple options of destinations and multiple budgeted ways to reach that destination at the best airline prices.
4. Features such as, 'Flex Search' allow a customer to save money by being flexible regarding their travel dates.
5. Features such as 'Private deals' allow a customer to save more money by booking hotels and cars through Kayak.
Merits –
It is different from other search engines in the way that it is more of an aggregate travel-search engine that allows airlines and hotels to post on their website which may be chosen by the customers. All Kayak is focused upon is getting its customers the best deal possible.
Demerits –
Since Kayak is not a quintessential online booking engine for flights, it doesn't handle the booking or the customer services during the travel. This also means that prices and availability are not under their control.
Verdict –
As always, do check all the search engines before choosing the best website for international flights.
7. Google Flights
About – Google Flights is hands-down the best multi-city flight search engine that has gained popularity amongst those who wish to travel on a budget. Launched in 2011, this search engine facilitates the sale and purchase of airline tickets.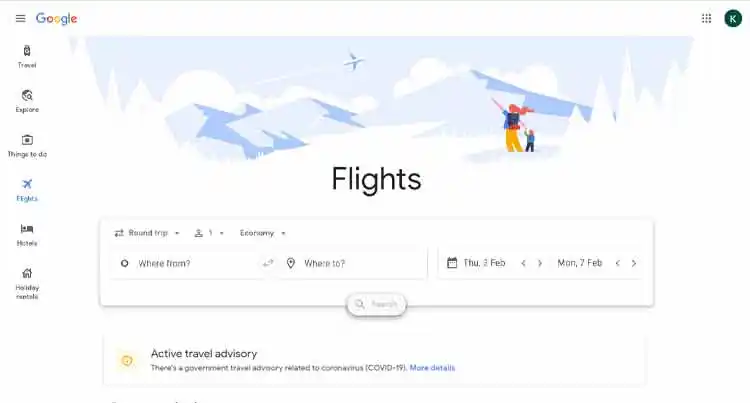 Features –
1. The most loved feature of this online search engine is that it is possible to know whether the cost of a flight includes the carry-on baggage cost or not. Using this, a customer can purchase the cheapest flight available.
2. Customers can set the exact hour range within which they wish to travel. Accordingly, Google Flights presents them with a variety of options to choose from.
3. It is possible to know whether the price of a flight offered on another website for a particular day is high, low, or typical on Google Flights.
4. It is possible to check for airports nearby to your destination which may help to reduce your flight fare further.
Merits –
Transparency is what makes this flight search engine so popular amongst people. It makes sure that the customers are apprised of all the details like the availability of power sockets next to the seats or even how much legroom will be available to the customer.
Demerits –
It isn't possible to book hotels or car rental services through this search engine.
8. Travanya
About – Travanya is regarded as the best website for cheap flights that books domestic flights within India and also international flights from India. Not only does this platform offer the best flight prices but the best holiday packages as well. Their business model is designed to help travelers end-to-end.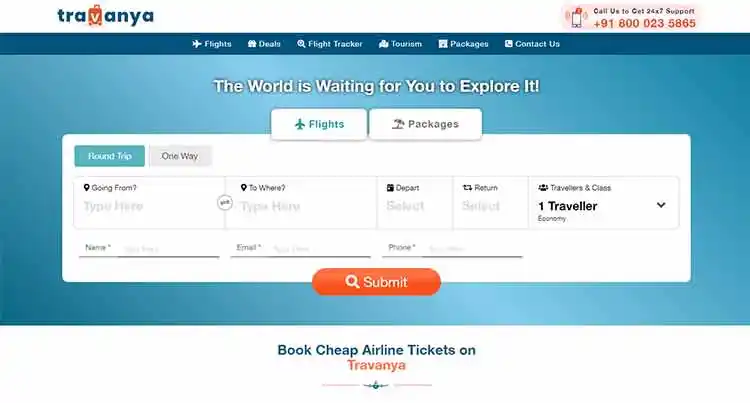 Features –
1. This flight search engine is 100% transparent and pulls out the best flight deals. It even offers last-minute, business-class, call-only, and other festive discounts on flights, making it the best flight deals website.

2. It curates the best travel itineraries as per the requirements shared by the passengers. Be it 5-star or 3-star, domestic destination or international, this portal caters to every minute request.

3. Right from non-stop flights to one-stop and two-stop flights, the portal offers a wide variety of itineraries to choose from.

4. They share quick responses to queries and carry out swift refunds in case of cancelations.
Merits –
What makes Travanya the best website to book flights is that there the portal offers easy payment solutions, 24*7 customer service, easy cancelations and refunds, and customized flight itineraries.
Demerits –
Travanya is slightly inclined towards catering to the Indian market. Therefore, it has geographical boundaries. Besides, one may get overwhelmed with all the flight options that look equally appealing.
Verdict –
While perfect for Indians looking to book cheap flights, non-Indians can zero in on a better portal.
9. CheapOair
About –
CheapOair is a world-famous online search engine that offers cheap flights, hotels, and car rentals. What makes it stand out from other travel portals is that it entered the business back in 2005, giving it an edge over others.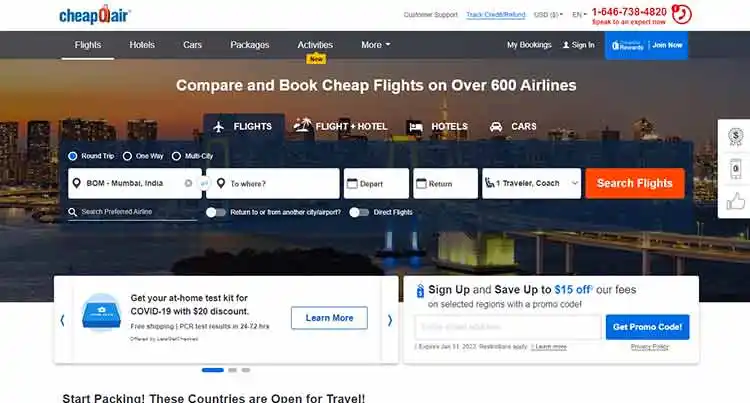 Features –
1. CheapOAir has a pretty robust filter system for search results. It also displays an option to "show alternate dates" which makes sure that you are traveling on the best possible days.
2. CheapOair offers Super Saver fares where there's no bidding involved. However, you only get to know the airline after purchasing. But rest assured, the flights are discounted.

3. This search engine has access to some of the most innovative and intuitive technologies that are currently being used in the travel industry.
Merits –
CheapOair is known to offer generous flight + hotel bundle discounts to its members, making it one of the best airfare sites.
Demerits –
CheapOair's booking fee of $35 can be heavy on certain pockets and might cause little uneasiness.
Verdict –
Even though it's the best site for flights, don't blindly book through it. Because in that case, you wouldn't know what to expect when it comes to ancillary fees. This fee can cost one an arm and a leg if multiple people from the same family book tickets.
About Heena Ganotra | View Posts
A writer by both passion and profession, Heena Ganotra is "half agony, half hope" but all heart. And oh, she has been a book lover from the start! Her love for books is what convinced her to make a career in the wonderful world of words. She loves what she does and is out-and-out a satisfied soul with a wish to spread happiness like herpes. Insight- Some say she is living the best life anyone could because she reads, writes, travels, and makes merry. They're right because what else does one really need! :)