The Perfect Guide To Delhi Weather: Everything You Need To Know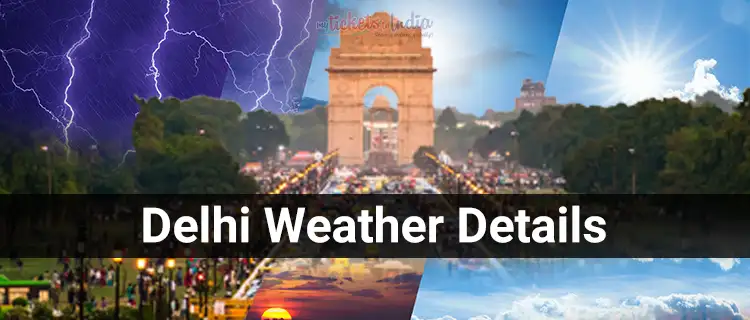 Last Updated on Jan 3rd, 2023 by Navneet Kaur, Leave a Comment
Delhi, the capital city of India, is located in the north of the country. The region has extreme weather conditions with high summer temperatures and winter cold waves. It is a city that experiences all five seasons: winter, summer, autumn, monsoon, and spring. Each season brings its own unique experiences, flavors, colors, and textures to the lives of Delhi's residents. In this blog post, we will talk about the Delhi weather and what it is like to experience them in Delhi.
Weather in Delhi, Canada
Sun, December 3

Overcast
Low 2.7° 36.9°
High 4.5° 40.1°
Sun Rise 07:35 AM
Sun Set 04:49 PM
12:00 am

2.7°
36.9°
01:00 am

2.8°
37.0°
02:00 am

2.9°
37.2°
03:00 am

2.9°
37.2°
04:00 am

2.9°
37.2°
05:00 am

3.4°
38.1°
06:00 am

3.3°
37.9°
07:00 am

3.3°
37.9°
08:00 am

3.3°
37.9°
09:00 am

3.3°
37.9°
10:00 am

3.5°
38.3°
11:00 am

3.7°
38.7°
12:00 pm

3.9°
39.0°
01:00 pm

4.0°
39.2°
02:00 pm

4.3°
39.7°
03:00 pm
4.4°
39.9°
04:00 pm
4.4°
39.9°
05:00 pm

4.4°
39.9°
06:00 pm

3.2°
37.8°
07:00 pm

5.3°
41.5°
08:00 pm

6.5°
43.7°
09:00 pm

6.0°
42.8°
10:00 pm

5.1°
41.2°
11:00 pm

4.4°
39.9°
12:00 am

3.7°
38.7°
01:00 am

3.4°
38.1°
02:00 am

3.3°
37.9°
03:00 am

3.4°
38.1°
04:00 am

3.5°
38.3°
05:00 am

3.5°
38.3°
06:00 am

3.2°
37.8°
07:00 am

2.9°
37.2°
08:00 am

2.6°
36.7°
09:00 am

2.3°
36.1°
10:00 am

2.5°
36.5°
11:00 am

3.0°
37.4°
12:00 pm

3.5°
38.3°
01:00 pm

4.1°
39.4°
02:00 pm

4.3°
39.7°
03:00 pm

4.5°
40.1°
04:00 pm

3.9°
39.0°
05:00 pm

3.6°
38.5°
06:00 pm

2.8°
37.1°
07:00 pm

2.6°
36.6°
08:00 pm

2.9°
37.2°
09:00 pm

2.1°
35.7°
10:00 pm

2.5°
36.5°
11:00 pm

1.6°
34.9°
12:00 am

2.7°
36.8°
01:00 am

1.3°
34.4°
02:00 am

1.8°
35.2°
03:00 am

0.4°
32.7°
04:00 am

0.3°
32.5°
05:00 am

1.1°
34.0°
06:00 am

0.1°
32.2°
07:00 am

0.2°
32.4°
08:00 am

0.6°
33.1°
09:00 am

0.4°
32.7°
10:00 am

1.3°
34.3°
11:00 am

1.2°
34.2°
12:00 pm

2.7°
36.9°
01:00 pm

3.0°
37.4°
02:00 pm

2.4°
36.3°
03:00 pm

3.2°
37.8°
04:00 pm

3.0°
37.5°
05:00 pm

2.4°
36.3°
06:00 pm

1.8°
35.3°
07:00 pm

1.5°
34.7°
08:00 pm

1.8°
35.2°
09:00 pm

1.1°
33.9°
10:00 pm

1.0°
33.9°
11:00 pm

1.2°
34.2°
The Different Seasons In Delhi
Summer Season
The summer season in Delhi runs from early April to the middle of June, with high temperatures typically peaking in late May or early June. The summer months are characterized by extreme heat, low humidity, hot winds, and thunderstorms. By the end of April or the beginning of May, maximum temperatures usually exceed 40 degrees Celsius, while the atmosphere remains dry. Nighttime temperatures towards the end of April often exceed 20 degrees Celsius. Delhi is hottest in May when temperatures can top 45 degrees Celsius. This month also sees frequent thunderstorms, and dust storms are another common summertime occurrence in the city.
Delhi summers are hot, dusty, and crowded. The city essentially bakes in the summer sun, making summer a difficult time for those not used to the heat. Also, beware of the dust. The air is thick with it, and it can be difficult to breathe sometime, so make sure to drink plenty of water and apply sunscreen while going out.
Monsoon Season
In Delhi, monsoon winds typically arrive at the end of June or the beginning of July. This season is generally humid and hot, with daytime temperatures sometimes dropping below 40°C (104°F) as humidity increases. The heat progressively increases from June to July, with July generally being the hottest month. However, rainfall is typically lower in July compared to August. The heat can be quite oppressive in July, especially compared to the cooler temperatures of August. August is generally the wettest month, with more rainfall. However, humidity remains high throughout September, even though the amount of rainfall decreases. By October, the humidity begins to decrease, signaling the end of the monsoon season.
Autumn In Delhi
The end of the monsoon season ushers in a transition season. By early or mid-October, the warm days and pleasant nights of autumn arrive. Maximum temperatures drop below 30°C by late October and average temperatures gradually fall. Minimum temperatures drop below 20°C bringing both pleasant weather and relief from the heat and humidity. During Autumn, the temperature difference between morning and afternoon becomes more pronounced, with minimums dropping below 10 °C and maximums staying just under 30 °C. This season comes to an end in early November, marking the start of winter.
Winters In Delhi
The weather in Delhi begins to cool off in early November, with minimum temperatures dipping into the single digits. Days are cool at this time of year. December can suddenly become cold in the latter half, as chilly north-western winds from the Himalayas begin sweeping the Northern Plains. By early January, when winter peaks in Delhi, the minimum temperatures may plunge to 0°C or below, and maximum temperatures may also drop into the single digit. The city can experience frost at this time of year.
The winter season in Delhi is characterized by cold and crisp air, shorter days, and people dressing in warm clothes to stay comfortable. The city often experiences heavy fog during this time of year, which can lead to disruptions in transportation. On the bright side, the skies are sometimes clear and bright blue, and the sunsets are stunning with their golden hue. Additionally, winter is a time when Delhi is relatively quiet and sleepy, as most people stay indoors to avoid the cold weather.
Spring In Delhi
In the middle of February, Delhi's weather transitions from winter to summer. This transitioning weather is called spring, characterized by warm days, cool nights, dry ambiance, and lively natural surroundings. The weather is pleasant with warm, brilliant sunshine during the day. Spring rains, which may be accompanied by hail, are a characteristic of this season. Average temperatures slowly and gradually rise as the wind direction shifts from north-west to south-west, getting warmer. By late spring and early summer, the difference in temperature between morning and afternoon can be significant, with highs reaching the mid-30s Celsius and lows in the mid-10s.
Best Time To Visit Delhi
Spring Season
Delhi is most beautiful during the spring season because the weather is perfect and all the trees are blooming. Spring arrives in March, with warm days and cool nights. Delhi weather is pleasant during spring, with low to moderate humidity, moderate to hot temperatures, and occasional showers making the landscape even more picturesque. Spring is a popular time to visit Delhi, as the city is not as crowded as it is during the summer months, and there are still plenty of cultural events taking place. Tourists can enjoy sightseeing, shopping, eating out, and visiting various popular tourist attractions in Delhi without having to worry about extreme weather conditions.
Autumn Season
Autumn, the season of mellow fruitfulness, is the best time to visit Delhi. The weather is very pleasant and there are lots of festivals and events taking place in this city during the autumn season. The days are a little warm and comfortable, and the evenings can be a little chilly, but that just adds to the charm of this wonderful season. Moreover, there are very few tourists during this time so you can easily explore the places without any hustle. In addition to experiencing the city's natural beauty, you can enjoy its street food and shop at its street markets for a wonderful experience.
Low Season
Delhi, being the capital city of India, witnesses a considerable flow of tourists around the year. If you're looking to avoid the crowds and save more money on flight tickets, or airfares, consider visiting Delhi during the low travel season. The beginning of May until the end of September is considered off-season time for tourism in Delhi. The month of May marks the beginning of summer while September signifies its end so many people avoid traveling during the summer months. Moreover, when planning a trip to this amazing city, be sure to avoid the months of October through April, as they coincide with India's peak tourist season.
Cheapest Time To Book Your Flight From USA To Delhi
The cheapest time to book your flights from USA to Delhi is during the shoulder season. As the airfares are generally lower between November and mid-December. On average, you can save up to $236 on a round-trip fare during the shoulder season. What's more, flights to Delhi in late January will be cheaper than those in early December since December is near the peak of the holiday travel season.
Clothing For Different Weather Conditions
The climate in Delhi can be quite extreme, with hot summers and cold winters. Therefore, the clothing to wear in Delhi should also be suitable for these conditions. Here are some suggestions on how to dress when visiting Delhi, India.
In summers, it is best to wear loose-fitting clothes made from natural materials like cotton. This will help keep you cool and comfortable in the Delhi heat.
You can even try wearing traditional Indian clothing like Salwar-Kameez, as they tend to be very comfortable.
For winters, be sure to bring plenty of woolen clothing. The weather in Delhi can be quite chilly during peak winter and if you plan on spending time outdoors, it is important to be fully covered.
Furthermore, when visiting religious places in Delhi, it is important to wear conservative clothing and wear comfortable shoes or sandals. You will have to go barefoot to these religious places, so if you are worried about your feet getting dirty, then definitely wear socks.
Accessories You Will Need For Your Trip
Whether you're visiting for work or pleasure, there are a few essential items you'll need to have in order to make your trip as comfortable and enjoyable as possible. Note – If you travel between November and February, make sure you carry a jacket else you'll be frozen to death after you're asked to deboard the flight at the Delhi Airport.
Here is the list:
A passport and visa
Money and credit cards
First-Aid kit, Medicines, and natural remedies
Sunscreen and Skincare products
Mosquito repellent and mosquito net
Hand sanitizers and wet wipes
Comfortable footwear
Safety clothes
Loose and comfortable clothes
Microfiber towel
Light sleeping bag
Safety and pickpocket-proof travel clothes
USB Power Bank and extra batteries
Camera and a flashlight, etc.
Tips For Staying Safe During Extreme Weather Conditions
The sweltering summer heat in Delhi can be unbearable, while the winter brings crippling cold-weather conditions. But there are ways to make the most of the season and enjoy it to the fullest. Here are some tips:
During Summer
Stay hydrated by drinking plenty of water and juice.
Avoid sugary drinks
Eat light and healthy meals, with plenty of fruits and vegetables.
Avoid spending too much time outdoors during peak hours (10 am-5 pm)
Wear a pollution mask when necessary.
Apply sunscreen while going out.
Wear sunglasses and a hat when outdoors to protect your eyes and skin from the sun.
During Winter
Stay warm: Dress in layers and make sure to cover your head, hands, and feet.
Drink plenty of fluids to stay hydrated and eat well-balanced meals.
Avoid going outside during late hours (11 pm to 4 am) and avoid walking alone at night.
Plan your route before you leave and try to stick to busy areas
If you need to walk somewhere dangerous, bring a friend or family member with you
FAQs
Q: What is the weather like in October in Delhi?
Ans: One can expect little hot and rainy days in Delhi in the month of October.
Q: What is the weather like in December in Delhi?
Ans: December is the coldest month in Delhi, with sunny days and colder nights.
Q: Which is the coldest month in Delhi?
Ans: January is the coldest month when most of the rainfall occurs. The average temperature in January is 0 °C, sometimes falling below freezing at night.
Q: Which is the hottest month in Delhi?
Ans: The hottest month in Delhi is May when temperatures can reach 45°C (113°F) or higher.
Q: Does it snow in Delhi?
Ans: Snowfall is not possible in Delhi. The coldest conditions usually happen when there is a clear sky and icy winds come in from the Himalayas. However, if there is a cloud cover, it can actually trap heat and make it warmer, which would make it less likely for snow to fall.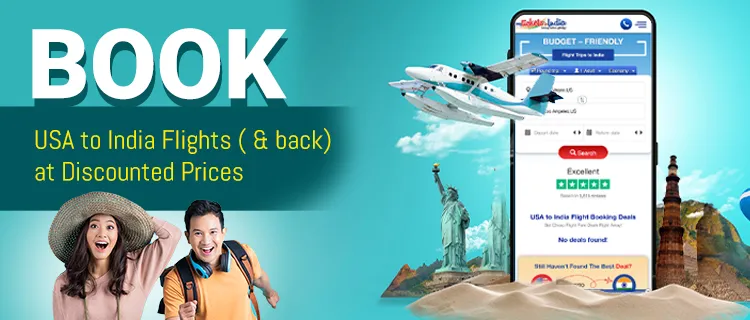 We hope this information on Delhi's weather conditions based on the season is helpful to you in planning your trip from the USA. For more detailed information on India's weather, including Mumbai's weather and Chennai's weather, check out our other blogs on MyTicketsToIndia.
At MyTicketsToIndia, we pride ourselves on being one of the best travel agencies when it comes to booking affordable flight tickets. We work with airlines to get our customers the best possible prices on their flights from USA to India, so you can rest assured you're getting a great deal. Plus, our travel experts have years of experience and are always happy to answer any questions you have. Give us a call, drop us a chat, or fill out a form and we'll take care of the rest!
Navneet Kaur is a Professional Content Writer with 5+ years of experience, she started her career as a Content Writer. Apart from having good knowledge of marketing and business, she firmly believes in dreaming big and making them come true. She lives with a passion to explore and learn about adventure, destinations, history and live events happening around. Including her travel writing skills, she has also written about places, arts and entertainment, personal experiences, nature and its beauty, etc.