Explore Bengaluru Airport's Exotic New 'Garden Terminal'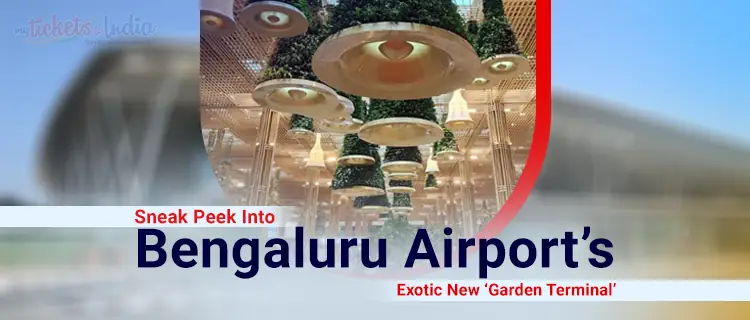 Last Updated on Jun 7th, 2023 by Renu Dahiya, Leave a Comment
The glitzy Terminal 2 of the Kempegowda International Airport is all set to give a pleasant experience to travelers, as the Rs. 5000 crore initiative has incorporated the concept of a 'Terminal-in-a-garden', a first of its kind. It was in 2019 that the operator of the Kempegowda International Airport, Bengaluru officially announced the launch of a Rs. 13,000 crore expansion program. And, on 11 November 2022, the Garden Terminal of BLR airport was inaugurated by the Prime Minister of India – Narendra Modi.
Given below are some of the exceptional features and facts about the new 'Garden Terminal' of the Kempegowda International Airport and its inauguration ceremony. We'll make sure you are ready to experience the unexperienced before your flight to Bangalore or back!
Huge Investment
New Terminal 2 at Kempegowda International Airport, Bengaluru has been built in an eco-friendly manner. It is remarkable that whole bamboo is used for construction, about 1,000 kilometers of engineered bamboo have been incorporated into the building interior. The architecture of the airport integrates several natural elements such as clay, bricks, bamboo, rattan, and an extensive landscape. About Rs. 5000 crores has been spent.
Natural Feel Of A Garden
This terminal building is mainly emphasizing on greenery part, that's why it is called a 'Terminal in a Green'. Planting plants on the walls in the corridors is also a special feature. The most exceptional feature of T2 is its gardens in various constructs – a hanging garden, calming garden, a sunken garden, an artificial forest belt, rattan furniture, and an expensive engineered bamboo ceiling and column wrappings.
Area
New Terminal 2 of BLR is spread over 112 acres with a total built area of 2.86 million sq. feet and features 15 bus gates, 61 check-in counters, 34 self-baggage drop counters, 36 departure immigration desks, 40 arrival immigration desks, 9 baggage claim conveyors, 23 passenger boarding bridges and 11 fixed link bridges.
The Number Of Flights Will Increase
Kempegowda International Airport, Bengaluru (BLR) is the third-busiest airport in India and the biggest gateway to South India for many connecting and nonstop international flights from different countries such as the SFO to Bangalore flights, one of the longest flights in the world. And, this new terminal of Bengaluru Airport is expected to serve 25 million people annually, officials said. So, once the new terminal-2 will start the operations of international flights, the number of international flights to Bangalore from USA, Canada, Uk, and many more countries will definitely increase.
T-2 – An Architectural Wonder
With the use of a combination of the latest in construction technology and natural material, this terminal will establish a new vision for sustainable growth. It will have lush greenery inside and outside and will be a visual delight like no other in the world. The passengers' experience is designed to be a walk in the garden while traveling through the new terminal. It is certainly a green landmark of the future!
Innovation And Technology
Airport officials said that technology has been applied to ensure the passenger experience is simplified, seamless, and effortless. This encompasses the check-in process, faster security checks, and convenient boarding. Digi Yartrs features 'your face is your boarding pass' technology, meaning passengers can pass through security checks easily. The face of a passenger today has become the single biometric token, and Indira Gandhi International Airport, Delhi, and BLR Airport have been at the forefront of developing this smart security implementation to facilitate more accurate screening of passengers.
Growth Of Bengaluru Airport
With just 40 acres of landscape in 2008, the operators have gradually increased the green space at BLR Airport to over 100 acres. Automated irrigation systems have been installed to provide uniform water distribution to maintain its vast greenery, covering an area of over 122,500 square meters. Greenery facilitates the survival of local flora and fauna, as well as a healthy working environment for employees, stakeholders, customers, and airport users. As Bengaluru is known as the 'Garden City of India', the officials have tried to reflect this image at the airport by creating world-class gardens and green space.
Prime Minister Mr. Narendra Singh Modi Inaugurated The New 'Garden Terminal'
Prime Minister of India Mr. Narendra Modi visited Bangalore in the second week of November 2022 for a series of inaugurations and a public Rally. As a part of this, the new Terminal 2 – Garden Terminal of Bengaluru Kempegowda International Airport was inaugurated on Friday, November 11, 2022. The Prime Minister also unveils the 108 feet bronze statue of Nadaprabhu Kempegowda.
On this occasion, he learned complete information about Bengaluru Airport's new Terminal 2 from the officials. He also visited the airport master plan. Prime Minister also shared photos on Twitter after inaugurating this new terminal. He added the following caption with pictures –
Here's a glimpse of the tweet shared by Indian Prime Minister Narendra Modi –
Conclusion
It is no exaggeration that there is no other airport like this in the world which is full of greenery inside and outside the airport. Going into this airport feels like entering a garden. A big draw of this newly built Terminal 2 will be its hanging garden. The designers have also kept in mind the rich art and culture of Karnataka while designing the terminal.
With this new terminal, BLR airport is all set to operate a number of domestic flights. And, after starting operations for international flights, the frequency of connecting and nonstop international flights to/from Bangalore, such as flights from San Francisco to Bangalore or from any other city/country, will increase. So, international passengers, whether traveling on flights to Bangalore or flights from Bangalore to USA, UK, Australia, or any other country, will have a smooth and hassle-free experience with increased facilities at the airport.
Frequently Asked Questions
Q: Is Terminal 2 of the Bengaluru airport operational?
A: The Terminal 2 of the Bengaluru airport (BLR) has been inaugurated by Prime Minister Narendra Modi on Friday, November 11, 2022.
Q: What is the budget of the Terminal 2 of the Bengaluru Airport?
A: The new terminal of Bangalore Airport (BLR) has been developed at an investment of Rs. 5000 crores (estimated).
Q: Who constructed the new Terminal 2 of Kempegowda International Airport, Bangalore?
A: L&T, the largest infrastructure company in India, built the new Terminal 2 of Kempegowda International Airport, Bangalore.
Q: What is the area of the new terminal-2 of the Kempegowda International Airport?
A: The new Terminal -2 of the BLR airport is spread over a total area of 2,55,645 square meters. According to airport officials, the terminal has the capacity to handle 2.5 crore passengers a year.
That's almost everything about the new Terminal 2 of the Kempegowda International Airport, Bengaluru.
Want to visit this amazing glitzy terminal? Don't worry! Our team, at MyTicketsToIndia, will help you.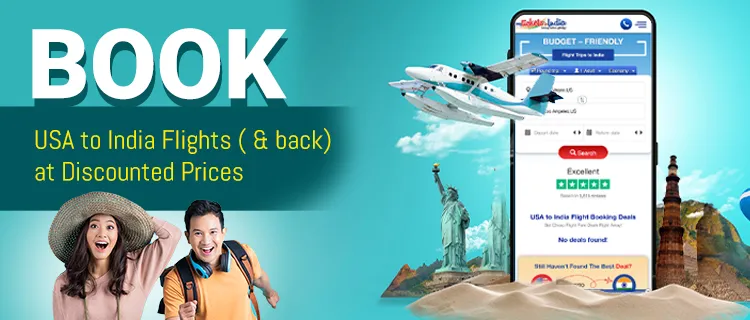 We are a well-established flight-booking agency that deals in offering incredible options on cheap USA to India flights and vice versa. We have served thousands of customers with our satisfactory services which you can witness from our 4.8 score and 5k+ reviews on Trustpilot. So, what are waiting for? Contact us now to book your flight tickets at the cheapest rates possible. Heavy discounts and amazing deals are waiting for you!
Renu Dahiya is a passionate writer who worships her profession. Her love for writing has encouraged her to pursue her career as a writer. Her friends call her a "travel worm" and always come to her to know some interesting traveling tips and destinations. Renu is a repository of knowledge about traveling who knows which place should be visited in which season. Oh yes, she is insanely in love with dancing too. Writer, traveler and dancer, a perfect combination! Without a doubt, she is a complete package.