A Comprehensive Guide On When And Why Flight Prices Drop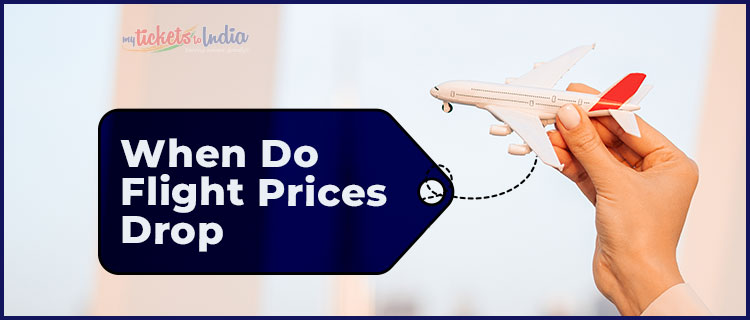 Last Updated on Jul 15th, 2022 by Navneet Kaur, Leave a Comment
Are you waiting for the best time to buy your flight tickets? You're not alone. The debate over the best day to buy airline tickets is ongoing, with conflicting data from various sources. However, there is no definite answer as to when flight prices drop, but there are a few tips that can help you save money on your trip. Airlines change flight prices according to market demand, and they drop prices mostly when demand for a route is low. So, if you can be flexible with your travel dates, you may be able to find better deals. Additionally, it's often cheaper to fly during the week than on weekends.
This piece will explain when flight prices drop, why flight prices drop, what is the best time, and what is the best and worst days to book your flight tickets.
Do Flight Prices Drop Near Departure Date?
Among the many tips to score cheap flights, the best is to book your ticket as early as possible. Airlines typically release their lowest fares for a given flight several months in advance, with the price gradually increasing as the departure date gets closer. So if you want to save some money on your next trip, book your flight as early as you can.
Different types of travelers tend to book flights at different times. Leisure travelers are more likely to book their flights further in advance than business travelers. Airlines offer the lowest prices in order to target leisure travelers and fill more seats. As the departure date nears, airlines begin to raise their prices in anticipation of increased demand from business travelers. Business travelers are generally willing to pay higher fares, particularly when they can charge the cost to a corporate credit card. Consequently, airlines can generally expect to earn more revenue from business travelers than from leisure travelers.
Do Flights Get Cheaper Closer To The Date?
The cheapest flight prices are usually available a few months in advance. However, sometimes airlines will lower prices if they are having trouble selling tickets. If you're willing to risk waiting until the last minute, you might be able to get a better deal. But be warned: airlines often hike up prices for last-minute travelers.
For Example – Last-minute flights to India cost the most, as the flight is likely to have fewer available seats. Last-minute travelers also have fewer options, allowing airlines to charge more.
Prices may also drop or increase moderately based on real-time bookings and cancellations. As airlines use computer software to adjust prices, they can respond to customer demand in real-time. Airlines may offer 10 to 15 different prices leading up to the departure date.
How Many Days Before The Flight Do You Get The Best Price?
Different airlines have different ways of analyzing and setting prices for flights. Prices can also change based on demand. But you're often likely to find the cheapest prices around 70 days before the departure date.
Airlines typically have higher prices 10-11 months before the departure date. The average cost of airfare is $50 to $80 higher during this period. That is to say, airlines have several months to fill flight seats, so they don't need to offer low fares.
Airlines start offering discounts and lower airfares about six to four months before the departure date. However, whether the airline offers discounts on flight tickets depends on the demand for seats. If an airline still has many empty seats on a flight, they may offer a bigger discount on the airfare. But if the demand is high, passengers may not get the savings.
What Is The Worst Time To Book Airplane Tickets?
It is generally more expensive to book a flight less than one week before the departure date. Sometimes, travelers can expect to pay an average of $150-$200 more when booking during the final six days before the flight.
Suggested Read: How To Book Cheap Flights When There are No airlines sales
What Is the Cheapest Day To Fly?
There is no definitive answer to this question as it largely depends on the specific airline and travel dates. However, generally speaking, Tuesdays are usually the cheapest days to fly. Tuesdays tend to have the most promotional deals, while Wednesdays are typically when airlines release their weekly sales.
Moreover, the cheapest days to fly domestically are midweek, with Tuesday and Wednesday being the most affordable. For economy tickets, departing on a Tuesday can save you around 24% compared to flying on a Sunday. This translates to savings of around $85 per ticket.
The average cost of flight tickets booked on Wednesday is around $280. As mentioned earlier, Sundays typically offer the highest prices. Thus, booking your flight during the weekdays would be cheaper than booking it during the weekend. And, if you're flexible with your travel dates, it's worth checking out airfare prices for these days.
What Is The Best Time To Book A Flight?
The least expensive time to fly internationally is typical during the months of January and February when demand is lower and there are fewer travelers. This is outside of the main travel seasons, which include December and half of summer. By flying during these off-peak times, you can save money on your airfare.
Flights in March are typically more expensive than in January or February, as travelers start planning for spring break or long weekends around various holidays. However, you may be able to find cheaper flights if you book your tickets in advance.
Moreover, September is a great time to travel internationally because many families are limited in their ability to travel due to school schedules. Also, this is the off-travel season, which can lead to lower prices for travelers.
Which Is The Most Expensive Month To Book Flights?
While wintertime and the holidays may be peak travel times for some, for others, summertime is the perfect opportunity to hit the road. Families have more time off from school and work, making it the perfect season to plan a trip. However, summer is often one of the most expensive times to travel, due in part to the increase in international flights. So, if you're looking to travel on a budget, you may want to consider another time of year. Besides, we have our research done for the cheapest months to book flights for you gain benefit out of it.
Do Flight Prices Go Up When You Keep Searching?
A lot of people think that when you're looking for flights on the internet, websites can see what you're doing and then jack up the prices. The truth is that it's not the websites themselves that are doing it- it's the airlines. They have computer software that updates prices in real-time based on how many people are looking for flights and how many tickets are available.
The prices of airplane tickets may change based on a variety of factors, including the number of seats that have been filled, the prices offered by competitors, the time of day, and the day of the week. These prices are often updated in real-time, which can make it appear as though the prices are increasing the more that a user searches for tickets.
Highlights
Flying on weekdays instead of weekends can also save you some money.
Finally, consider flying into smaller airports rather than larger ones – the smaller airports usually have lower fares.
No matter which month you decide to visit Indore, just make sure you have booked your tickets well in advance to enjoy below-average prices on the airfares.
FAQ's
Q: Do flight prices drop on Thursdays?
Ans: Monday and Tuesday are typically the days when flight fares begin to drop, so the chances of getting a cheap flight are automatically higher. However, for certain destinations, Wednesday and Thursday may actually have cheaper fares than Tuesday.
Q: What time of night do flight prices drop?
Ans: The cheapest time of the week to book a flight is at midnight on Tuesday. Flights booked at this time can save you up to 10% of the total cost. Early morning flights during the week (Monday through Wednesday) are typically cheaper as well.
Q: Do airline prices change at midnight?
Ans: There is typically a drop in flight prices during the midnight hours, with Thursdays often being a good time to make reservations for both domestic and international travel.
Q: Is it true that flights are cheaper on Incognito?
Ans: There is no evidence that suggests that using incognito mode or clearing your cookies will lead to cheaper flight deals. This is a persistent myth.
Now that you have an understanding of when flight prices drop or when is the best time to book cheap flight tickets, you can begin planning your next trip with more confidence. Also, if you need help, our travel experts are available to assist you in getting the best possible discount.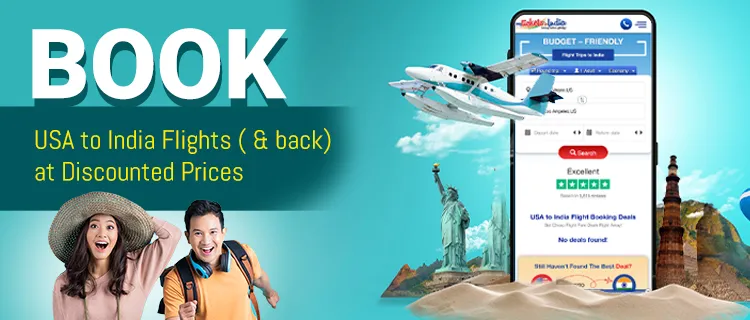 MyTicketsToIndia is an IATA-certified travel agency that works to provide cheap flight tickets. Our team will assist you in finding the best options for cheap flights from USA to India or back. Furthermore, we assure full transparency in our dealings with you, making us the best choice for all your travel needs. Get the best possible discount – simply give us a call or start a live chat!
Navneet Kaur is a Professional Content Writer with 5+ years of experience, she started her career as a Content Writer. Apart from having good knowledge of marketing and business, she firmly believes in dreaming big and making them come true. She lives with a passion to explore and learn about adventure, destinations, history and live events happening around. Including her travel writing skills, she has also written about places, arts and entertainment, personal experiences, nature and its beauty, etc.